Howard V. L. Bloomfield was one of the better editors of Adventure magazine after Arthur S. Hoffman left the magazine. He increased the page count of the magazine, which had dropped to 96 pages an issue, increased its frequency from monthly to twice a month and revitalized the magazine by getting new stories from old timers like Talbot Mundy and Gordon Young.

He also put together the 25th anniversary issue of Adventure in November 1935.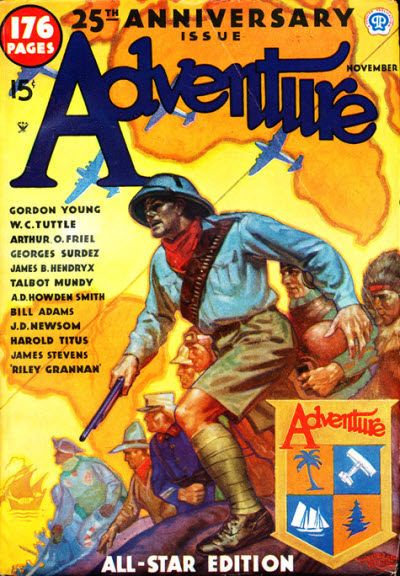 This article originally appeared in the November 4, 1988 issue of the newspaper The Star-Democrat from Easton, Maryland.

Howard Van Lieu Bloomfield, c. 1922
A writer's life, a sailor's life
Howard Bloomfield leads both
People who know him invariably describe Howard Bloomfield as one heck of a nice guy. He is. But Bloomfield is more than just a nice guy, He's an interesting man who has led an interesting life; a writer's life, a sailor's life. A newspaper man in the Roaring '20s, editor of detective and adventure magazines in the '30s, book author, magazine short-story writer, farmer, columnist, newspaper editor and lover of sailing. Through it all, a lover of sailing. Bloomfield, a longtime Oxford resident, lives in the cozy house he designed and built on the edge of Town Creek. With its rustic paneled walls, towering bookshelves, wood stove and waterview, it's a warm and inviting little home, an ideal environment for a writer.
As he sat by the fire in his well-worn armchair overlooking the sun-flecked surface of the water, Bloomfield reminisced about how he caught the writer's bug in the first place. He was born in New Jersey, the descendant of 17th-century English settlers. (There's a Bloomfield, N.J., in fact, named after his forebear Joseph Bloomfield, an 18th-century governor and a major in George Washington's army.) As a kid, Howard discovered the joys of boating paddling around in a canoe, building a raft out of railroad ties. But the addictive pleasure and endless challenge of writing caught hold of him when he was a senior at Plainfield High School, where he won an award called the Babcock Short Story Contest The winning story, titled, "A Man's Part," was set in the trenches of World War I.
Contest rules specified that story lengths be 800 to 1,000 words. Bloomfield's winning tale was only 776 words, but "I thought 24 more words would be superfluous," he said. His concern for concision paid off, of course, for he won the contest. He credits an English teacher, Ellen Cummings, with encouraging him to become a writer. The contest prize was $25 worth of books, which he had Cummings help him select. It was a mini-reference library, "And the pile was so high when I carried it off the stage I was looking around the corner of it to see where I was going. I have wondered if $25 could buy all those books, or if Mrs. Cummings had contributed a few herself." One of those books was a six-inch-thick dictionary. Taped, cracking and worn out from years of use, it still sits on Bloomfield's bookshelf.
After high school, he went on to Harvard, graduating with a degree in English and literature. At the time, a writer named Irvin Cobb was enjoying a degree of popularity. Cobb had written that the best way to break in to the writing business was to work as a reporter. Bloomfield took heed, and embarked on a six-year career as a newspaper reporter. He worked at various New York newspapers the Brooklyn Eagle, the New York World-Telegram, etc. then packed his bag, hitchhiked to Florida, and got a job on the Miami News. Then he hitched across country to California and worked for the L.A. News. After a stint there, he boarded a ship and sailed back through the Panama Canal to New York, It was the 1920s, and Bloomfield was footloose and fancy-free, traveling, gathering experiences, working as a journalist back in the days when smoke-filled newsrooms resounded with the loud incessant clacking of manual typewriters, and staffers hollered to be heard. It was an exciting milieu, but when Bloomfield sold his first short story to a magazine, he left the newspaper biz to freelance full-time.
He churned out the stories at an admirable clip, collecting rejection slips and waiting for another break. An anecdote he tells conveys the random whimsy that often governs the publishing world. He'd written an adventure yarn called "Fever River" and submitted it to Sea Stories magazine. The story was rejected. Bloomfield let a few months lapse. "Then I typed the first page over exactly, but I changed the title." The story's title became "At the End of the Rope." He re-submitted the piece every word identical, only the title switched to Sea Stories magazine, and it was accepted. He got a letter from the Sea story editor, along with the check, saying "On account of the similarity of your title to Joseph Conrad's story 'At the End of the Tether,' we are changing your title to 'Fever River."'
From 1928 to 1934, Bloomfield was editor of Detective Fiction Weekly. It was the golden age of the pulp magazines, and Bloomfield's magazine was in direct competition with the famous Black Mask magazine and a slew of other crime pulps. As editor at Detective Fiction Weekly, he bought stories from, and thereby helped nurture, the careers of some mystery writers who would go on to achieve greater fame and fortune. Years before he created the immortal "Perry Mason," Erie Stanley Gardner wrote stories for Detective Fiction Weekly. Gardner was "a big breeze out of the West," Bloomfield said. "He'd come in to the office and slap a new Stetson on my head." Gardner's short stories for Detective were about a hero named Lester Leith, "sort of an urbane Robin Hood character."
Cornell Woolrich, the dark genius who's the subject of a recent biography, also wrote stories for Bloomfield. In the '40s, Woolrich would become famous for his imaginative, existential thriller novels, some of which became successful films: "Rear Window," "The Bride Wore Black," "Night Has a Thousand Eyes," etc. But Bloomfield knew Woolrich back before he became a literary celebrity. "I bought a lot of stuff from him," Bloomfield said. "But he wasn't really one of the boys… I recall he lived in some hotel in New York City with his mother…He wrote very well."
The great Western writer Max Brand (real name Frederick Faust), was a good friend of Bloomfield's as well as a contributor to Detective Fiction Weekly. "He was the best writer I ever knew, an instinctive writer, an observer," Bloomfield said of Brand. Best known for his numerous Western stories, the prolific Brand wrote in other genres as well. Bloomfield even once helped him convert a Western into a mystery story for Detective Fiction Weekly. In all, he speaks fondly of the acquaintance.
During this time, Bloomfield was avidly sailing, and reading all the boating magazines every month. In one such journal he came across an article that talked about a place called Oxford, Md. Bloomfield was intrigued, and checked the town out. The contrast of sleepy, maritime Oxford to big, busy New York City was an appealing one, and Bloomfield bought a house, to use as a vacation retreat "until the big day finally came when I'd shake New York."
Meanwhile, Bloomfield moved up from Detective Fiction Weekly to Adventure magazine, a top publication in the men's pulp field. He worked as an editor there until 1940, writing articles for Yachting magazine on the side. Of his success in the New York publishing world, Bloomfield said, "I think' what I had was an ounce of talent and a pound of persistence," It was time to take a stab at full-time free-lancing again. In 1940, he left New York to live, year-round in Oxford. The house needed work, his 30-foot sloop, the Kittiwake was docked right outside, and sailing fever took over. Bloomfield, his wife Constance and their one-year-old son set sail for adventure in the warmer climes of the Florida coast. They lived on the boat for a year. Bloomfield's book, Sailing to the Sun, chronicles the voyage. It was published by Dodd, Mead & Company in 1942, and is available at the Talbot County Free Library. For the next 10 years, Bloomfield enjoyed success as a free-lancer.
From his Oxford home base, he sold stories to top-name publications such as Collier's and the Saturday Evening Post. "All writers liked the promptness of the Saturday Evening Post," he said. "Where other magazines might take three weeks to decide on a story, when a writer was hungry for a check, it was said the Post didn't like to keep a manuscript overnight. There was a story that the Saturday Evening Post would meet a manuscript on the train halfway to Philadelphia and buy it right then or turn it around and send it back."
Bloomfield pieces that appeared in the Post included an article on the Chesapeake Bay oyster fleet, titled "Chesapeake Shell Game," which was later reprinted in Reader's Digest; and a Shore-set mystery story, "The Case on Turkey Point." " Collier's bought a Bloomfield story called "The Trap," an action-thriller about a man overboard and an ensuing death-duel on a deserted island. It's a ripping yarn with a neat surprise ending, and has been reprinted in various magazines, most recently in Alfred Hitchcock's Mystery Magazine in 1984, which ran it as the monthly "Crime Classic" feature. John Pike, the noted watercolorist who did the illustration for the story when it first appeared in Collier's, gave the original watercolor to Bloomfield, with the inscription, "For Howard Bloomfield, who wrote the best yarn I ever illustrated.".
This was a busy period for Bloomfield. He was camping editor for Hunting and Fishing magazine, for which he wrote a monthly column under the pseudonym "Bill Hardrock." He wrote novelettes and a couple of novels. And one assignment, which he describes as a "real piece of luck," was to rewrite It was a first novel that a military doctor had written about his World War II experiences. Doubleday offered Bloomfield a 50-50 royalty split with the author to do the rewrite; the book enjoyed big sales both here and abroad, and was serialized in Cosmopolitan. "It was the most remunerative thing I ever got into."
In the '50s, "A big unfortunate change was coming." It was the death of the fiction-oriented magazines. "The magazines began to go. Where I'd once counted 70 magazines (that specialized in fiction) it got down to where I counted five magazines that just printed a single (fiction) story."

So Bloomfield concentrated on writing articles. He landed a staff-writer position with the venerable Country Gentleman magazine; the position involved a lot of expenses-paid traveling around the nation. Bloomfield bought a big working farm in Trappe; things were looking up again. "This was a great life. Then, after 10 years, it came to an end as suddenly as a clap of thunder." A hostile buy-out of the 100-year-old Country Gentleman by its main competitor, Farm Journal put Bloomfield, and the entire CG staff, out of work. The deal, according to the rumors at the time, was made over a golf game.
Bloomfield's next venture was newspaper-publishing. In the late '50s, the Star-Democrat, then a weekly, had a competitor, a small paper called the Easton Journal. Bloomfield bought it, ran it for a year or so, boosted its circulation considerably, but came to realize the paper was a no-win proposition. One thing he initiated at the Easton Journal, though, was the printing of tide tables, something the Star-Democrat wasn't doing at the time. Today, The Star-Democrat does print tide tables, and guess who does them? "Thirty years later (after initiating it at the rival paper) I'm doing tide tables for the Star-Democrat," Bloomfield said, and laughed. '
Other projects ensued: a history of the U.S. Coast Guard, a series of articles for American Forests magazine. Nowadays, though, Howard Bloomfield is officially retired. But as you glance around his living room, noticing the stacks of typewritten pages arranged by chapter across his couch and on his desk, it becomes clear that the writing bug Bloomfield caught back at Plainfield High School has not worn off. He's working on the second draft of a mystery book, and is making good headway, he says. Retirement means more time on his sailboat, docked outside. Retirement means waking up in the morning whenever you want. But also, Bloomfield said, "Retirement means working on a mystery novel."