Robert Leitfred was an author working in many different genres from aviation and war at the beginning of his career (the early 1930s) and moving to detective, speculative/weird fiction and general adventure fiction in the 1940s. He wasn't a prolific author – close to a hundred stories in the
Fictionmags index
, and biographical details are thin on the ground. What I have here is a skeleton of the bare facts; hopefully someone can fill in more details later.
Robert H. Leitfred (1891-1968) – Author photo c. 1918
Robert Henry Leitfred was born on August 5th 1891 in Syracuse, New York to Henry and Jennie Leitfred (Bennett). His father died in 1895, of consumption, and though I could not find any record of his mother's death, I think it must have happened either at the same time or soon after. In the 1910 census he's shown as a boarder in the house of one Warren H Blankman. On October 27, 1914, he married Mildred Snyder; both were working as stenographers at the time.
In 1918, he enlisted in the motorcycle unit of the quartermaster corps, leaving his position with H. W. Duguid's coal business. This was featured in the local paper, and the photo above is from that time.
By 1920, he was back in Syracuse, and he and his wife were working as stenographers again, though in different businesses – he in a typewriter factory, and she in a stock broker's office. They were still in a boarding house. He started writing after this; must have needed to supplement his income – his first sale was to the detective pulps. He was in good company; Seabury Quinn had a story in the same issue. His next sale was in 1926, again to the detective pulps. Starting in 1927, he started appearing regularly in the war/aviation pulp genre.
In 1928, before the Great Depression, he and his wife travelled across the country to California by car. They had come to visit his wife's friend, the wife of author Bob Du Soe, another writer for the pulps. They liked the place and relocated there by 1930.
By 1935, he had switched to the general fiction and detective genres almost exclusively, with a few sales on the side to weird fiction and science fiction markets. One of his stories in Weird Tales, a dystopian fantasy set in the year 2001 and featuring deadly clouds arising from a world war, got him a cover credit on the September 1940 issue – something that H. P. Lovecraft never got. The cover is one of the strangest ones I recall seeing – the art is by
Ray Quigley
, coincidentally also from Syracuse, NY.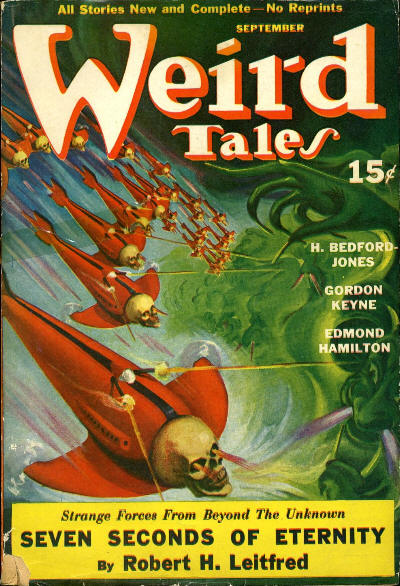 Weird Tales, September 1940 cover featuring Robert Leitfred's story
Cover image courtesy the Fictionmags Index
He had a letter in that issue, from which I have taken an excerpt here:
Fantasy the Father of Fact
THE fantasies of today are the common-places of tomorrow — the impossibilities of one age the possibilities of the next. In this issue Robert H. Leitfred has written a tale of the world sixty-one years in the future—so this letter from him is of special interest. From Laguna Beach, California, he writes us:
"There is an old saying that you can't have your cake and eat it, too. But writing mystery and detective stories and books brings in my bread and butter. When I want cake, I turn to a type of story that I like to write—a type that always intrigues me with its limitless possibilities. This type of story is the imaginary fiction of the future, and every scientific invention that goes with it. Yet these stories, while being fiction as far as reading is concerned, are not without a sound basis of fact.
"Letters come to my desk from various towns all over the country asking how such stories can be written. Where does the material come from? How do you go about writing such weird, fantastic yarns? Sometimes I wonder myself.
"To go into the details of answering such questions would require more space in Weird Tales than the editor can reasonably allow me. But the development of everything from metals to plants seems to form a logical order of progression. One has only to project himself forward in time and space, and the answer is waiting for him.
…
"Doctor Lawrence of the University of California, working on an atom-smashing machine called a Cyclotron, has had such astonishing success that the time is close at hand when he will make discoveries that will startle the world.
…
"Getting back to scientific yarns again. To me they are vanguard of inventions that will become practical and useful in the world of tomorrow. Space machines, super-rockets, planet exploration, gravity destroyers, and invisibility may appear unreal and unobtainable to us who live in the present age. Yet someday, any or all of them might come under our control.
"Who knows, but even the human mind may reach a point where it will be free from jealousy, greed and hatred. When this state of perfectionism has been reached, there will be no more wars, and we humans will have arrived at the ultimate peak of civilization."
Many of his stories appeared in Short Stories – one of the top four or five magazines in the market. By 1941, his writing career was almost over, and in 1951 he made his last fiction sale. Whether he had seen the writing on the wall or the market dried up, it didn't matter. The pulps were dying, and he had to look for other sources of income. He doesn't seem to have tried to break into the science-fiction/fantasy digest magazines, which were booming at the time.
The census data of 1950 and 1960 are not in the public domain yet, and so the next event I know of is his death on 6 August, 1968 in Laguna Beach, California. His wife died within a month of his death, on 02 Sep 1968. They had no children as far as I know.