[On the occasion of the artist's birthday]
The artist Gayle Hoskins did many covers for
Western Story Magazine
, starting in 1929. One of the few positive things to emerge from the Great Depression was that many excellent cover artists were forced to do illustrations for pulp magazines as their incomes dropped. This led to improved quality in covers overall during the early 1930s, and provided good mentors like Emmett Watson to up and coming artists like Rudolph Belarski.
Hoskins did a series of 27 thematically related covers titled "A cowboy's day" starting with the January 3, 1931 issue and ending with the July 4th issue. Of these covers, 20 were collected as a set of prints offered for sale by Street and Smith, the publisher of
Western Story
. I don't know why some of the covers were omitted, i included them here (taken from the FictionMags Index of
Western Story Magazine
).
I got hold of a nearly complete set, missing only a single print. Thought you might want to see it. Tell me your favorites in the comments. Mine are 4, 14 and 20 in the printed set, and "Snake and his rustler band" from the unreprinted ones.
The Jan 3, 1931 issue introducing the series of covers titled "A Cowboy's Day" by Gayle Hoskins
Gayle Hoskins – A Cowboy's Day #1 Dawn
Gayle Hoskins – A Cowboy's Day #2 Saddling Up
Gayle Hoskins – A Cowboy's Day #3 Trail Talk
Gayle Hoskins – A Cowboy's Day #4 The morning buck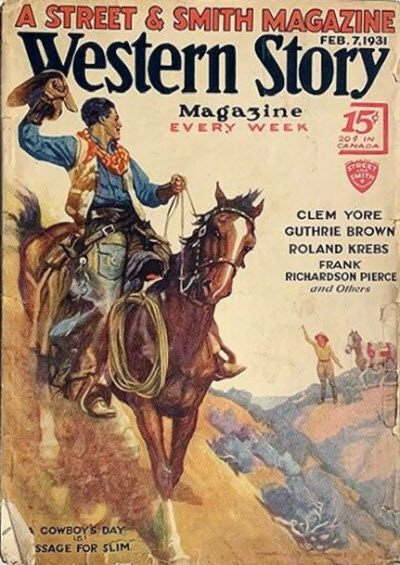 Gayle Hoskins – A Cowboy's Day – A message for Slim
Gayle Hoskins – A Cowboy's Day #5 Sound Again
Gayle Hoskins – A Cowboy's Day #6

Outlaws' Smoke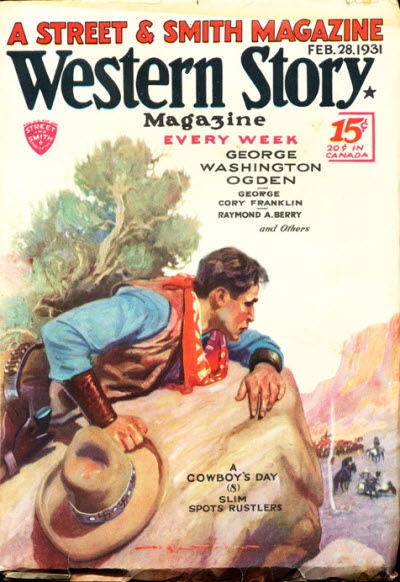 Gayle Hoskins – A Cowboy's Day – Slim spots rustlers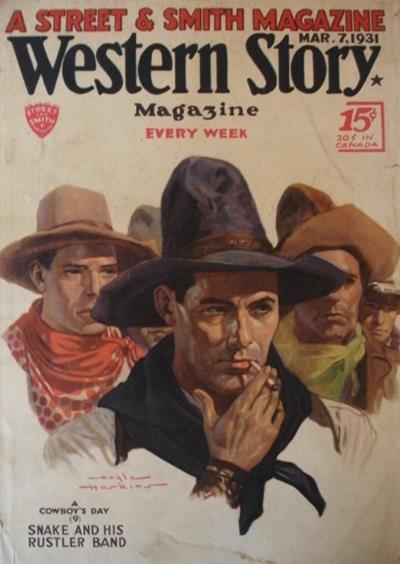 Gayle Hoskins – A Cowboy's Day – Snake and his rustler band
Gayle Hoskins – A Cowboy's Day #7 Rustler's Brand
Gayle Hoskins – A Cowboy's Day #8 The Rustler Shoots
Gayle Hoskins – A Cowboy's Day #9 Pursued

Gayle Hoskins – A Cowboy's Day #10 Water
Gayle Hoskins – A Cowboy's Day #11 Bad News
Gayle Hoskins – A Cowboy's Day #12 "Chuck"
Gayle Hoskins – A Cowboy's Day #13 A Hot Trail
Gayle Hoskins – A Cowboy's Day #14 Reading Sign
Gayle Hoskins – A Cowboy's Day #15 Kidnaped
Gayle Hoskins – A Cowboy's Day #16 Posse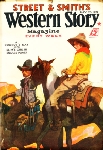 Gayle Hoskins – A Cowboy's Day – Slim's Girl in Snake's Power
Gayle Hoskins – A Cowboy's Day #17 Picking 'em off
Gayle Hoskins – A Cowboy's Day #18 Devil's Due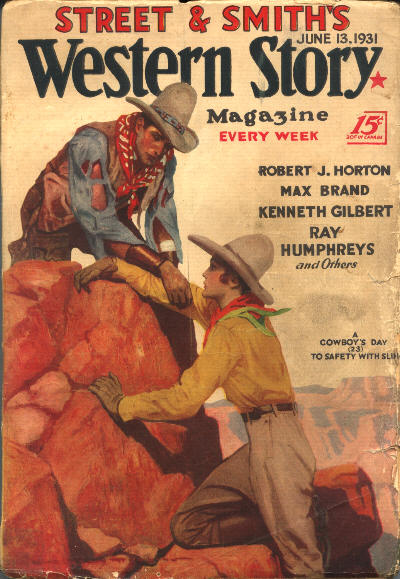 Gayle Hoskins – A Cowboy's Day – To safety with Slim
Gayle Hoskins – A Cowboy's Day #19 Round-Up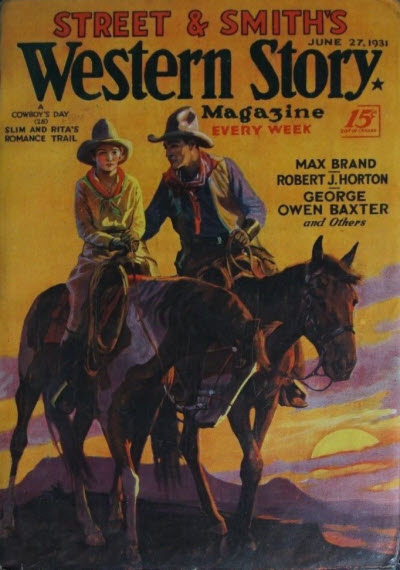 Gayle Hoskins – A Cowboy's Day – Slim and Rita's romance trail
Gayle Hoskins – A Cowboy's Day #20 Happy end of a cowboy's day