This review of a detective pulp has been long pending. I wanted to review three issues of Dime Detective – one each from the 1930s, 1940s and 1950s to give a representative look at this great magazine. To kick things off, let's look at the January 15, 1935 issue. Dime Detective commenced publication in November 1931, and for the first few years, it looks like a weird menace magazine from the covers.
This issue is from what many collectors consider the peak period for Dime Detective (roughly 1934 to 1943). It's squarely in the middle of the period when they were putting out two issues a month. This issue has stories by Erle Stanley Gardner and Norbert Davis, and appearances by series characters from Donald Barr Chidsey and Frederick C. Davis.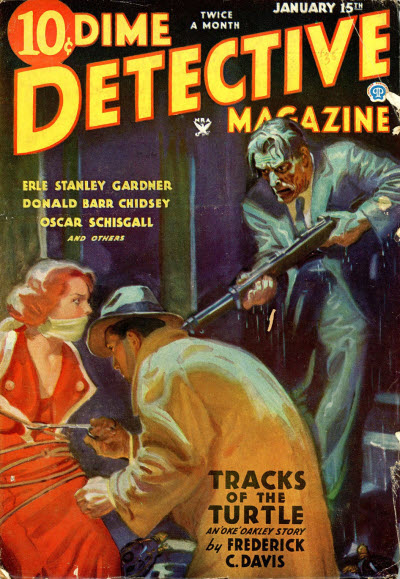 | | |
| --- | --- |
| Dime Detective Magazine, January 15, 1935 cover by Walter M. Baumhofer | |
Dime Detective Magazine [v16 #1, January 15, 1935] (Popular Publications, Inc., 10¢, 128pp+, pulp, cover by Walter M. Baumhofer)
No letters from readers here, just a column from the editor talking about how even hard to believe stories are in fact based on real life, giving a couple of examples – one being a story in this issue, Tracks of the Turtle. Frederick C. Davis sent the editor a letter in which he quoted a Time article from 1931 December, describing the disease hereditary ectodermal dysplasia and saying that he based the character Alexander Alleyne on that article.
8 · Hard as Nails ·
Erle Stanley Gardner
· nv;
not the same as the story of the same name in the March 1925 issue of Black Mask
4/5
Dime Detective Jan 15, 1935 – Hard as Nails – Erle Stanley Gardner – Illustration by John Fleming Gould
Gilbert E. Best was as full of dynamic energy as a busy coffee percolator. He started out of the elevator before the door was more than half open, pounded his way down the flagged floor of the skyscraper hallway, not as a man who is in a frantic rush, but as one who is so filled with surplus energy that he finds an outlet in pounding the floor with his feet.


Excellent hard-boiled story by Gardner. Gilbert E. Best, a private investigator, is hired by a lawyer, Frank C. Dillon, to find a key witness in the case of his client, Ellen Hanley, who was injured in an accident with a motor coach. Walter Manning, the driver of the motor coach operated by the Airline Stageways Co., has been hidden away by the defense attorney, Sam Wigmore. Moreover, by pretending to offer a job, Wigmore has entrapped Ellen into signing a declaration of good health – a precondition for the job application.
Between the missing witness and this, the case against the Airline Stageways has collapsed. Both lawyers are unscrupulous, caring little for the injured party as long as their income isn't threatened. Gil Best does his best for the client, using the crookedness of the defense attorney against him, and inducing Dillon to work for the benefit of the client with a combination of carrot and stick. To say more would be to spoil the story.
29 · The Gin Monkey ·
Norbert Davis
· nv
3/5
Dime Detective Jan 15, 1935 – The Gin Monkey – Norbert Davis – Illustration by John Fleming Gould
An average story from Norbert Davis, nothing to complain about. A private detective is hired to find a drug-addicted sculptor. He finds him, rescues him from the clutches of a gang of crooks, takes the sculptor back to his flat. Later, as he revisits the sculptor's flat, he is knocked unconscious and finds the sculptor murdered when he regains consciousness. Perhaps inspired by the Sherlock Holmes story The Adventure of the Six Napoleons. Davis is good at describing characters:
Minnie was twenty-six years old. She was small and nervous and quick-moving, and her brown hair had a way of straggling out from behind her ears. She was not what you would call beautiful if you had any regard for the truth. She wore large horn-rimmed glasses on the end of her short nose, and when she got mad she shook her fists and swore like a trooper and threw anything that happened to be handy that she could lift
….
Jake was a squatting mound of white in the shadows behind the short, high bar. He was sitting on a stool, leaning backward, with his bald, round head against the cash register. He had a handmade cigarette plastered in one corner of his mouth, and his mouth was open on that side, and air wooshed loudly in and out as he breathed.


Dime Detective Jan 15, 1935 – The Corpse Clue – Donald Barr Chidsey – Illustration by John Fleming Gould
This was the third of nearly 30 stories about Morton and McGarvey from Chidsey. The first five appeared in Dime Detective and the rest of the series appeared in Munsey's Detective Fiction Weekly and Argosy.


Morton, the older detective, is the brains, and McGarvey is the muscle. Both play their parts in this story of a Napoleon of crime, Edison J. Erskine, a master jewel thief who plans out his crimes ahead of time, uses an army of support staff, and always has a firm alibi for every crime. Erskine is in Miami, the home of Morton and McGarvey, clearly planning a major crime. But they have no clue who the target is, and the story is all about their attempts to find out and prevent the crime. Do they succeed? Read and find out…
A criminal, this Erskine? Why, a quieter, better behaved man would be hard to find! He sat gazing at the blue sea, at the creamy rollers, and he was almost blatantly inconspicuous on that beach where most of the bathers were trying to attract attention. He spoke to no one. Even the girl who sold lemonades from a basket-tray, and who clearly thought it part of her duty to keep unattached men from feeling lonesome, was not able to wring a smile from him. He bought a drink, and he nodded seriously, and paid her; but he seemed to give no attention to her talk.
…


For five days the schedule didn't vary… If McGarvey had ever supposed that he would like to be one of the idle rich, he was well rid of that idea now. He thought nothing was ever going to happen again.


Morton, on the other hand, was expecting almost anything to happen. Clean and gray and somber, he sat in his office seventeen out of every twenty-four hours. He sent and received telegrams, made long distance calls, examined reports, shooed away newshawks. But most of the time he just sat there, staring at the ceiling, tapping his fingers upon the blotter, and wondering—wondering what he was missing.




76 · Tracks of the Turtle [Clay "Oke" Oakley; Secrets, Inc.]
·
Frederick C. Davis
· nv 1.5/5
Dime Detective Jan 15, 1935 – Tracks of the Turtle – Frederick C. Davis – Illustration by John Fleming Gould
A weak story from Frederick C. Davis, with the most unbelievable part of the story being how the murderer arranged things to seem that the victims had been shot from one rifle rather than the other.
110 · Murder as the Crow Flies ·
Oscar Schisgall
· ss 3.5/5
Dime Detective Jan 15, 1935 – Murder as the Crow Flies – Oscar Schisgall – Illustration by John Fleming Gould
Three bank robbers kidnap a pilot and force him to fly his plane through bad weather at night to help them escape the pursuing police. The pilot is unarmed and outnumbered. He beats them, only to be arrested on landing safely. Worth reading.
Dime Detective Jan 15, 1935 – Bodyguard – Michael Kennedy – Illustration by John Fleming Gould
Another story by Chidsey, this one under a pseudonym. Six page story of a policeman trying to transport a witness safely to the USA from Europe, without losing the witness. Average story.
126 · Cross Roads of Crime: 8 · Richard Hoadley Tingley · pz
Cross Roads of Crime: 8 · Richard Hoadley Tingley
Crime crossword. My copy was blank, thought I'd put it in here for you to solve.
| | |
| --- | --- |
| ACROSS | DOWN |
| 1 The pictured man was a figure in the famous Dayton, Tenn" case. | 1 Hard substances |
| 7 Dress | 2 One who reviews and suggests |
| 13 Trial | 3 A hypothetical force |
| 14 Slacken | 4 Seat in a church |
| 15 Chemical symbol for "lithium" | 5 Auditory organs |
| 16 Graphology | 6 Slide |
| 18 Opposite of "debit" (abbr.) | 7 Dismounted |
| 19 A suffix denoting an adherent | 8 Mood |
| 21 Malignance | 9 An article of clothing |
| 22 Murmuring note of a dove | 10 Present tense of the verb "to be" |
| 23 An antic or caper, not necessarily criminal | 11 Jump back |
| 25 Pictured man born here in 1857 | 12 To implant deep |
| 26 Spume or spindrift | 17 A variant of "si" |
| 27 The spermatic organ of a male fish | 20 Instruct |
| 28 Chemical symbol for "cerium" | 22 Place of residence of the pictured man |
| 29 Abbreviation for "Established church" | 24 Signs |
| 30 Examine with the eye | 25 The last |
| 32 Hook used to handle fish | 30 Expressionless |
| 35 Makes lace | 31 Our northern neighbor |
| 36 Discount or rebate | 33 Last scene |
| 37 Single | 34 Support; lend aid |
| 38 Antithesis of capital | 38 Mother of Appolo and Artemis |
| 43 Opposite of "offs" | 39 Again |
| 44 The sixth musical note | 40 Exist or live |
| 45 Not specific | 41 A city in European Russia |
| 47 Near ; adjacent | 42 A frog |
| 48 To shape ideas | 45 A fish with a saw-like snout |
| 50 Empower | 46 Tool of the pictured man |
| 52 The pictured man's last name | 49 A suffix used to form nouns of agency |
| 53 The profession of the pictured man | 51 Alongside |