[In a recent mail thread with Walker Martin, I was joking about how his set of Black Mask would have kept him safe from the coronavirus, if only he hadn't sold it. He could have read every issue while saying to his family – "See, a Mask a day keeps you safe."
Because he's a nice guy, he responded to this sick humor with a mail about collecting Black Mask. Sensing an opportunity for a free article on this blog, i asked him a few more questions and he responded to those too. The result is what you have before you today.
If you want more in this vein, tell Walker that. Leave a note in the comments section – you don't have to have a Google login to do that.]
Your question about Black Mask has started me thinking about how I collected the set and then read most of it. In fact, I've often said once you complete a set and then read much of it, the next step in the collecting process is to sell it.
I may have told you this story before and some of it I wrote online for Mystery File back when I started the Collecting Pulps: A Memoir series but it all started when I was drafted into the army in 1966. The Vietnam war was heating up and I was headed for an infantry company when the army discovered I knew how to type thus possibly saving my life. I now had plenty of time to read and while in the PX I noticed Ron Goulart's The Hardboiled Dicks.
US Army PX – inset image of Ron Goulart's The Hardboiled Dicks
Before the army I was a collector of SF pulps and digests but I never came across Black Mask or the other detective pulps because just about nobody collected them back then. I later found out that UCLA had a big but incomplete set of Black Mask and a guy named E.H. Mundell had another big but incomplete set. Everyone back then seemed to be only interested in SF, hero, Max Brand pulps.
Since I never saw any copies of non-SF pulps during my early collecting years of 1956-1966, I figured that adults read the adult pulps like Black Mask, Adventure, etc and then threw them away. They were not like the SF fans who were mostly teenagers and young men who obsessed over SF and kept the magazines in beautiful condition unlike the working men adults who would read them and then throw them away.
But Ron Goulart's ground breaking collection proved me dead wrong. The other genre pulps were out there in the wild! True not many people were collecting them but Goulart's book proved the issues were available especially the detective pulps. When I got out of the army in 1968 I had two goals. Track down a set of Black Mask and get a set of Weird Tales. Along the way I picked up a wife, children, a house, and a job. But my main interest was as a collector.
I quickly wrote Goulart in care of the publisher and asked him if he would care to sell his copies of Black Mask, Dime Detective, and Detective Fiction Weekly. He sold me everything he had and only for a couple bucks each. Soon I received two big boxes and I was on my way to collecting complete sets of Black Mask and Dime Detective, and an almost complete run of the over 900 issues of Detective Fiction Weekly. Many years later Ron Goulart wrote in my copy of THE HARDBOILED DICKS, "To Walker, whose life I ruined".
For a few years I was just about the only market for Black Mask, so while they were rare, I had no real competition. This was in the 1969 and early 70's period. But I kept raving and talking about how great the magazine was that I created my own competition. Jack [Last name redacted for privacy] before he started to collect it, only collected SF and hero pulps. Maybe a few westerns also. In fact after buying Goulart's issues, I discovered Jack lived in Trenton also and I visited him. I had no car at the time and took two buses to get to his house. He had 5 issues which he sold me for 2 or 3 dollars each. All were from the thirties. But he soon started to collect them also after hearing me talk about the magazine. We finally both had the only complete sets in the world. And we both lived in Trenton, NJ!
I always had my eye out for pulps but I never found anything in antique stores. A friend once found some and sold me a few issues. Another friend once stumbled across an original cover painting from a 1914 Cavalier by Modest Stein. He traded it to me for 4 Jim Thompson paperbacks. Years later I sold that to another collector, who has it still hanging in his bedroom.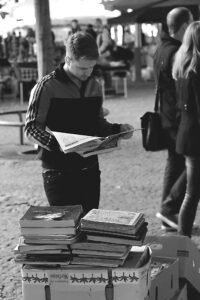 Only once at a flea market did I find some pulps. In the 1970's I once came across a table full of pulps, all kinds of titles. I offered the dealer $15 for the entire table of over 100 pulps and he immediately took my offer. In other words I got them for cover price of a dime each.
I paid $700 for that last issue of Black Mask I needed. Jack and I both needed the same last issue and we were bidding against each other along with another collector. Jack Deveny had the issue. Must be something scarce about the October 1921 issue for us both to need it out of 340 issues. Maybe copies were destroyed in a fire in the warehouse or a flood, etc.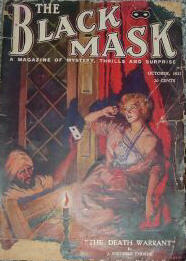 Black Mask – October 1921 issue, the last one that Walker and Jack needed
For many years some collectors kept getting us confused with each other. For instance I don't think Sam Moskowitz ever did know who was who. We were just the guys collecting Black Mask in Trenton.
I never did find a large lot of Black Mask for sale. Goulart sold me several issues and a comic collector mailed me about 20 issues from the early 1920's. I didn't realize that Mundell was willing to sell his Black Masks. He had 200 or so but was dying from smoking cigarettes. When I found out he sold them to Jack I was kind of unhappy and in fact I told him I would have paid more for the issues. I had most of them but I would have liked to upgrade some of my issues. I guess I was just jealous.
I think I told you about my scheme to beat Jack and others to individual copies of Black Mask. He often beat me to issues but I started mailing more money to dealers and even if someone else beat me they couldn't pass up the extra money I was offering. It's all about greed. They had greed for the extra money and I had greed for more Black Masks!
Pulpcon did not start until 1972, so I developed a system of writing hundreds of letters to collectors asking them if they had non-SF pulps for sale. Plus I started buying pulps from Richard Minter who was selling through the mail. He had great contacts among the old time collectors and knew where to find any title you might want. And his prices were very reasonable and affordable to a someone like me with a family. Every week I would receive two or three packages from Minter, all wrapped in brown paper with string. They all had old 3 cent stamps also because some collectors paid him off in stamps instead of money. These packages continued all through the 1970's and most of the 1980's.
Photo of Rick and Mildred Minter courtesy Barry Traylor, pulp collector and Pulpfest organizer
Once Pulpcon started in 1972, I filled my car up each year with pulps plus I made the necessary contacts in the dealer's room to buy many pulps through the mail later on. I also started collecting original pulp art and I managed to buy many pulp cover paintings over the years. One of my best contacts was Harry Noble of Morristown, NJ. We became best friends visiting each other a couple hundred times. He sold me many extensive runs of pulps on the installment plan. In other words if a set cost $5000 I would pay him off every two weeks in installments of a hundred to two hundred dollars until the debt was paid.
Many years at Pulpcon I bought so many pulps that they would not fit in my car and so I would arrange for someone to mail me several boxes. I was good friends with Nils Hardin, the publisher of XENOPHILE and he mailed me many boxes. One year Pulpcon announced that the dealer's room would stay open as long as there was one dealer and one collector selling and buying pulps. That rule only lasted one year since I kept the room open until two am in the morning buying pulps. Rusty Hevelin, the Pulpcon organizer, had to stay in the room to lock it up when I finally left. He was not happy…
Rusty Hevelin at a SF convention in the 1970s
I know it's hard to believe but I completed my sets of Black Mask and Weird Tales by 1972(except for the October 1921 Black Mask and the second issue of Weird Tales, both of which I tracked down later in the 1970's).
You asked me how many of the Black Masks did I actually read. For the most part the 1920's were not that interesting except for Dashiell Hammett of course and maybe Daly. Even when Joseph Shaw took over in late 1926, it took him a couple years to get together a stable of writers who would be able to write quality hard boiled fiction. By 1929 he had the writers so though I didn't read much in 1920-1926, I found 1927 and 1928 interesting. I read just about all of 1929-1936, when Shaw left the magazine. Except for Woolrich and Gruber and a couple others, I didn't read much in 1937-1939.
But I found Black Mask to be really excellent when Popular Publications took over in early 1940. Under the editorship of Ken White the magazine revived and became quite good during 1940-1948. I read just about all these issues because I loved the complicated and complex plots with zany and humorous characters. The stories were often quite long, sometimes close to 20,000 words. Some of these great stories are being reprinted by Steeger Books. For instance the Luther McGavock series by Merle Constiner, the Cellini Smith series by Robert Reeves, and the Rex Sackler series by D.L. Champion. Matt Moring is doing an excellent job with these collections titled The Dime Detective and The Black Mask Libraries.
[A few samples from the Black Mask library. All photos are clickable with links to Amazon]
Black Mask has been a big part of my life and I still have the 1940-1951 issues which I would now state are my favorites. I know, I know, the Joseph Shaw years were very influential but he was too hard boiled. Ken White added a sort of whacky style to the stories. You know you love something when you name your children after literary figures. My son is named Joseph Chandler Martin. He may not care about the names but that shows the influence of Joseph Shaw and Raymond Chandler on me.
[Walker started with a reprint collection, assembled the originals, sold them off and is now assembling a reprint collection. Being a collector means you never stop.]