A couple of weeks ago, as I was going through the May 1907 issue of Blue Book, I realized that the cover was signed but unidentified. Indeed, the FictionMags Index did not have artists attributed for the first few years of the magazine's existence. From 1912 onwards, the magazine credited the cover artist in the table of contents page. Unfortunately, this was not true for earlier issues.
What follows is the result of a week-long email exchange between me and pulp art expert David Saunders (whose amazing site pulpartists.com you should visit) as we attempted to uncover the mystery of who painted those covers.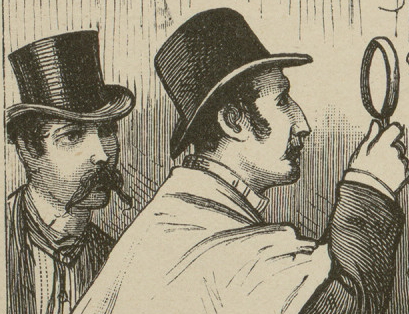 It all started when I didn't recognize the signature on the May 1907 issue of Blue Book, so I sent an email to David:
Hi David, Do you recognize this signature? It's on the cover of Blue Book, May 1907.

Me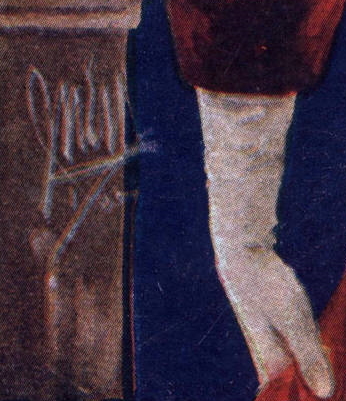 I do not recognize the signature, so I went to Phil S. Payne's website to look for any further instances of similarly signed covers for The Blue Book Magazine from around the same time, and I was surprised to find that the same artist did MOST of the covers in 1907 1908 and 1909. Nevertheless, most of the painted signatures are equally illegible…. I did find one example that is much more clearly signed, but it looks like it spells … Z. T. Nikajaki … a name which is hard to feel confident about! So we need to do some more research.

David
David identified an artist whose name and signature were similar, Z. P. Nikolaki:
Do you agree that most of the 1907 to 1909 covers of Blue Book have the same signatures? They look alike from the low resolution scans online, but I am not totally convinced that these are all by the same guy unless I could see more examples clearly

David
I managed to get a better scan of the signature on the May 1907 issue and sent it to David.
I'm not so sure it's by Nikolaki. I did a better scan of the signature. Does that look like ZPN or Z Nik to you? The March 1907 issue cover is by John N(orval) Marchand, who was based in St. Louis. Could the initials on May 1907 be J N M. i.e. John N Marchand again? The signature writing looks similar

Me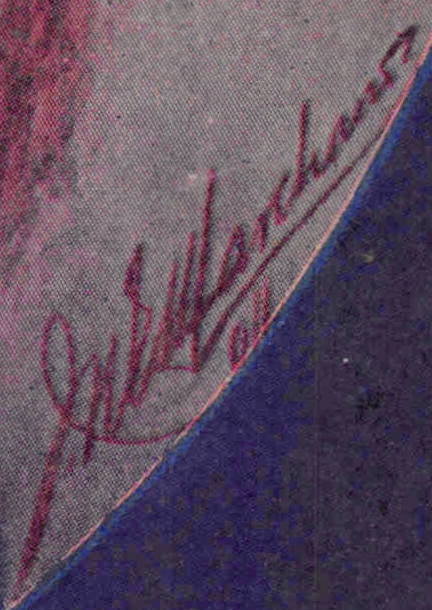 David went on to dig through the artists of the early issues and sent me this
I have been trying to decipher the cover artists for early BLUE BOOKs. The 1905-05 is by Emile A. Nelson (1873-1913). Another one of the early BLUE BOOK artists was Gustave Charles Widney (1872-1955). He did the covers for 1906-03, 1906-05, 1906-09, and 1906-11. 1910-09 has a different painted signature that I cannot decipher.

David
Then he dropped a bombshell on me.
I just realized that we have been mis-reading the painted signature of J. N. Marchand. The Blue Book artist appears to be another artist. J. N. Marchand always signed his work in all capital letters. See attached image as an example of his signature in 1907. Notice that he does not use any flashy script. Also Marchand was known as a rough and tumble he-man Western artist and close friend of Charles M. Russell. Not known for dainty portraits of women. We have to make a renewed effort to decipher the signatures you scanned.

David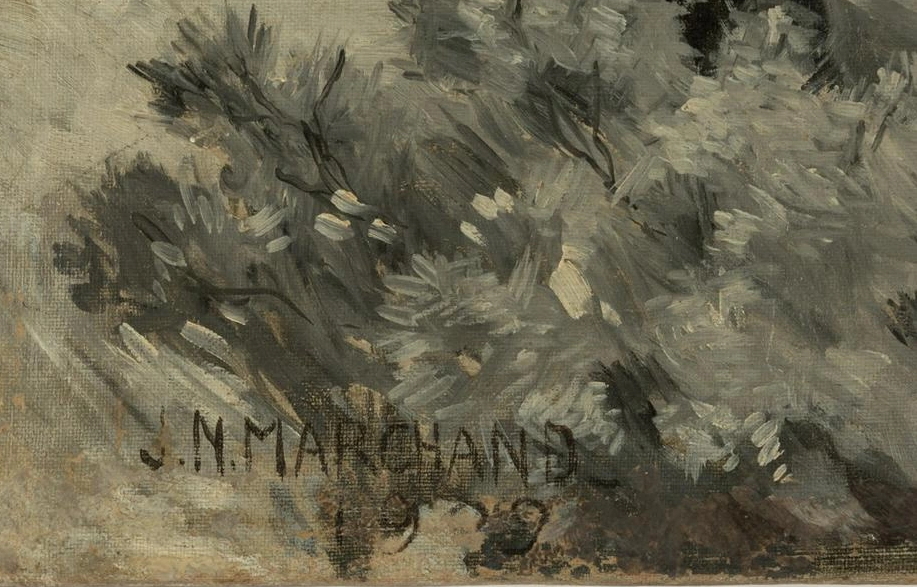 Watson usually went after the wrong suspect. Convinced that I had found the right Marchand, I replied:
Re: different signatures. I wonder if Marchand was trying to keep his signatures separate for his western art and his pretty women illustrations while still creating an identifiable brand with a repeating signature.

Me
David's point about the signatures not matching was valid, but I was reasonably sure the signature said Marchand, too. To confirm, I decided to look at Red Book, also published by the same firm at the same time. Since they too had beautiful women on the covers, it was likely that the two magazines shared artists. Since Red Book started crediting its artists earlier, I might be able to match some signatures on Blue Book covers to names.
Aha! Gustavus Widney had done covers for both magazines. And so had John Marchand. But he was identified in the magazine as J. N. E. Marchand. I ignored the extra E and sent this message to David: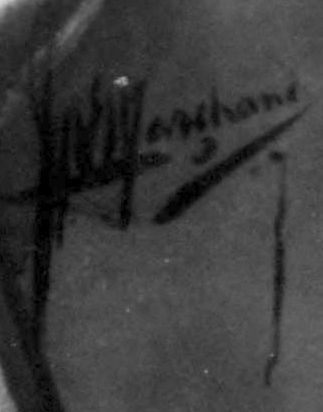 Here is Marchand's signature from Red Book, 1907 Jul. Name matches, signature is similar and he is known to have worked for that company in the same timeframe. To me, that argues for Marchand.

Me
In time-honored Watson tradition, it was time for me to double down on the wrong theory:
Yes it does, and I have no idea what the E stands for. Do you have access to Ancestry? Can you see if that's his full name? John Norval Marchand 1875-1921.

Me
David corrected me, gently but firmly:
I completely agree that the signature you just sent from a red book cover is the same as the early Blue Book covers, but I have seen no proof as to whether they are both made by the famous western artist. … I can find no such initial. I also have five different newspaper archives and all of them have hundreds of mentions of j n marchand and he is never listed with an initial E. … That's why i would first need to know if the source is reliable.

David
Time for Watson to do some more sleuthing around the neighborhood of the crime. I took a step back and just tried to find any other mention of any other J Marchand. I thought I found one on a genealogy site and I asked David if he could find anything in his massive reference library, built over 5 decades:
Can you look for an artist J(oseph) N E Marchand who lived in NY? There may be 2 Marchands.

Me
A few minutes after sending the mail I found a possible match and mailed David again:
I think I've found our man, and it's not John Norval Marchand. This is Joseph N. Edmo(u?)nd Marchand, b. 1966 Canada, living 1920 and 1930 in NY State, Westchester. Profession Commercial Artist. Norval died in 1921 and this guy worked after that.

Me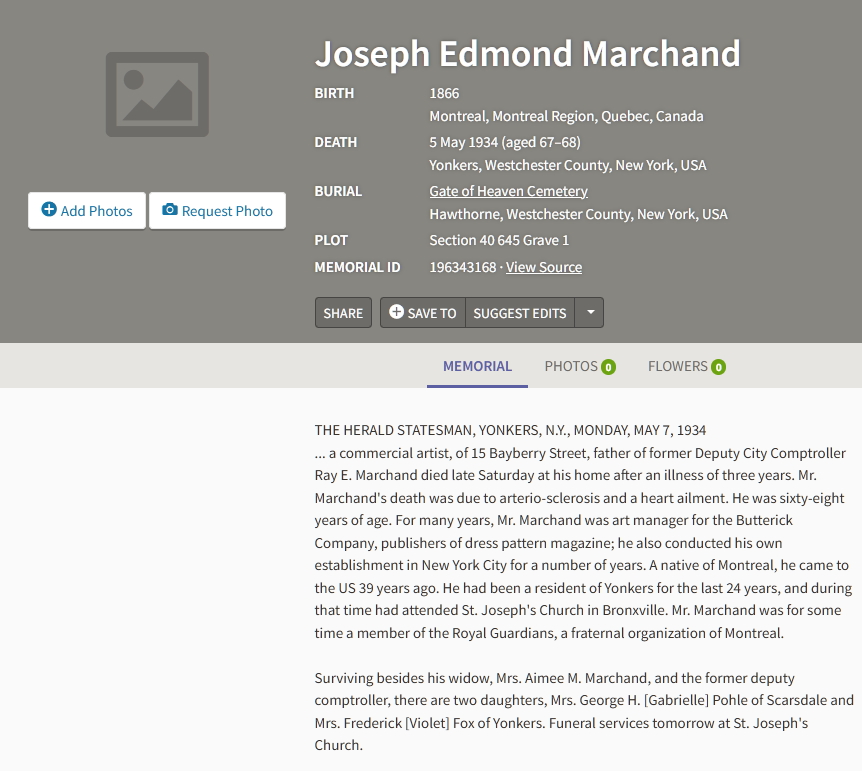 David kindly replied:
Amazing!

David
I knew I had to eat some crow after being so sure the two Marchands were one:
What a coincidence. Thankfully they credited the full name and you pushed back on the Norval identification.

Me
David kindly refrained from giving me a further helping of corvid and reminded me that we still had many more to identify:
There are several other unknowns in the first five years of blue book cover artists. Foster? Chalmer? ADW? James Albert Lane? Etc. Maybe we should make the same effort to identify them all?

David
I sat and dug through my collection to find issues in that timeframe (I had eight), and used the FMI for covers of issues I didn't have. In each cover, I tried to find an area where the artist's signature was visible. Some were easy to read, others hard. Unlike David, who can identify an artist by just looking at the style of the painting, I needed help.
I sent him a list of the signatures. He sent my list back with comments:
I suspect the same artist may have done the June 1905 and the July 1905 and the September 1905. Please see what you can discover about the January 1906 which might be signed "P. Chalmer" although I was not able to find such an artist in my listings. June 1906 is signed "A D W"? I also cannot find any artist named James Albert Lane in any archives. He also seems to have signed the covers for 1911-05. One further problem is that I cannot find any person named "Jan Atton" or "Jan Attol" who signed 1911-06, 07,08, and 09.

David
And followed it up with a full identification of J.N.E. Marchand:
Joseph Narcesse Edmond Marchand was born November 11, 1865 in St. Johns, Quebec, Canada. He married Marie Emma Aimee Bergevin on June 22, 1892 at Notre Dame de Montreal, Quebec, Canada. They had two children, daughter Gabrielle (b.1893) and son Raphael (b.1894). They left Canada and moved to New York City in 1895. In 1896 their third child, daughter Violette was born. The family lived at 52 East 131st Street in Manhattan, until they moved to Yonkers in 1911, where they lived at 198 Stone Street. The artist died at the age of sixty-eight on May 5, 1934.

David
Though we had identified the right Marchand, we still needed to find out how many of the covers he did. On some of the covers, it looked like C Marchand. Did we need to find a third Marchand, a la the Three Garridebs? We exchanged notes:
This signature has a pronounced "C" shape in the first initial, but the rest of it still resembles Marchand, so maybe it is a more flamboyant swirl from the letter "J"?

David
My own theory for the swirl is that it is the letter E, written like C with a line bisecting it. The J N are overlaid on the E. Then comes the rest of the name "dmond Marchand". What do you make of that?

Sai
For once, Watson was right. David agreed. I did a little dance before my computer:

Your comment on the Nov 1910 signature (see attachment) is very convincing. Thanks to your analysis I can now see the swirling "C" shape as it relates to the enlarged dominance of overlapping "J" and "E" just as you suggested. The swirling "C" is definitely the lower arc of a script capital "E" that also overlaps the script capital "J" This Nov 1910 example is convincing proof of your theory!

David
Now that we had the right Marchand in custody, the conversation turned to Jan Attol.
I am sure Jan Attol was a pseudonym. Not a single reference outside of the Red/Blue Books for 1911. The faces of the ladies portrayed resemble Henry Hutt's triangular faced women, done in a rush or perhaps to hide his style. Starting early in 1911, Hutt was going through divorce proceedings and may have wanted to hide income. In Dec 1911, he told a judge that he could not pay alimony because he was broke and had nothing on hand except his paintings. Conclusive? No. Suggestive? Yes.

Me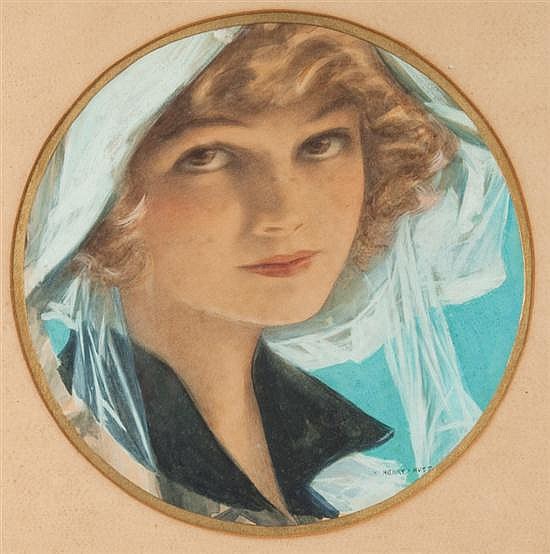 David's reply gave me confidence:
Your theory about Attol and Hutt is identical to my theory about William Steig as well as Stockton Mulford. Both of those artists used pen names at the same time their ex wives were garnishing their salaries! The article I found in 1912 about his divorce being settled by a judge does suggest that the previous year would have been a contentious time period, when a good divorce lawyer would have instructed him to begin hiding his assets from his wife's lawyers. … I wonder if the Woman's Home Companion or The Saturday Evening Post had a lot of work by "Jan Attol" during that gap year of 1911?

David
More legwork as I followed up David's suggestions. No Jan Attol to be found. I looked for Henry Hutt instead.
Henry Hutt covers under his own name in 1911 are limited. I could only find a couple for Life and one for Ainslee's (which proves he was not above working for the lower end of the market). And that he was working that year. … I don't think we'll find conclusive evidence, short of lucking out on finding Hutt's papers or Blue/Red Book's payment records. I think it's a strong possibility. What do you think?

Me
David replied:
Having researched hundreds of artists, one gets a sixth sense about phony named artists. Jan Attol seems a lot like a professional illustrator working under an assumed name. The mere fact that ALL his work is done in only one year underlines the suspicion that it is a known artist using a fake name. To me the case was closed when I found many legal problems with Henry Hutt's divorce that same year. It's him. My only remaining question is the origin of such a curious pseudonym, Jan Attol. I looked at all his relatives but did not find any clues.

David
A copy of the following page was stored with my notes of the case in my dispatch box, another was sent to the wizard behind the curtain at FictionMags and Galactic Central – Phil S-P. Case closed.
| | |
| --- | --- |
| Issue Date | Artist |
| May 1905 | Emile Nelson (1873-1913) |
| Jun 1905 | |
| Jul 1905 | William Frederick Foster |
| Dec 1905 | |
| Jan 1906 | |
| May 1906 | Gustavus C. Widney |
| Jun 1906 | Alice Beach Winter |
| Sep 1906 | Gustavus C. Widney |
| Oct 1906 | James Albert Lane |
| Nov 1906 | Gustavus C. Widney |
| May 1907 | J N E Marchand |
| Jun 1907 | J N E Marchand |
| Jul 1907 | J N E Marchand |
| Sep 1907 | J N E Marchand |
| Oct 1907 | J N E Marchand |
| Nov 1907 | J N E Marchand |
| Dec 1907 | |
| Jan 1908 | J N E Marchand |
| Feb 1908 | J N E Marchand |
| Mar 1908 | J N E Marchand |
| May 1908 | J N E Marchand |
| Jun 1908 | |
| Aug 1908 | |
| Jan 1909 | J N E Marchand |
| Mar 1909 | |
| Apr 1909 | |
| May 1909 | |
| Jul 1909 | J N E Marchand |
| Dec 1909 | J N E Marchand |
| Jan 1910 | |
| Jun 1910 | J N E Marchand |
| Sep 1910 | J N E Marchand |
| Oct 1910 | |
| Nov 1910 | J N E Marchand |
| Feb 1911 | |
| Mar 1911 | |
| May 1911 | Jan Attol |
| Jun 1911 | Jan Attol |
| Aug 1911 | Jan Attol |
| Sep 1911 | Jan Attol |
| Oct 1911 | Malcolm Strauss |
| Nov 1911 | Malcolm Strauss |
| Dec 1911 | Malcolm Strauss |
| Feb 1912 | Malcolm Strauss |
| Mar 1912 | Malcolm Strauss |
| May 1912 | Henry Hutt |
| Jun 1912 | Henry Hutt |
| Mar 1914 | Henry Hutt |
| July 1916 | J. Knowles Hare |
| Dec 1924 | Laurence Herndon |