After a long series of articles on Black Mask, I felt the need for a change. So here's a review of a pulp title you don't see that often: Fawcett's Battle Stories.
It was an attempt to cash in on the large and active group of American World War 1 veterans. These veterans had already banded together in the American Legion, which brought out a monthly magazine with a substantial dose of fiction. However, the appetite for real and fictional stories of WW1 was much more than the American Legion Magazine could meet, and pulp publishers cashed in on the craze: Dell was first with War Stories in Nov 1926; Fawcett's Battle Stories launched in Sep 1927; Dell's War Novels in Feb 1928; Street & Smith's Over the Top in Oct 1928; Hersey's Under Fire in Nov 1928 and Fiction House's Soldier Stories in Apr 1929.
Of these publishers, only Fawcett had a military background. Wilford Fawcett claimed to have worked on the US Army's Stars and Stripes magazine. On returning to civilian life, he launched Captain Billy's Whiz-Bang, a digest size risque joke book magazine which met with immediate success. (On an ironic note, the erstwhile editors of Stars and Stripes launched the New Yorker magazine in 1925.)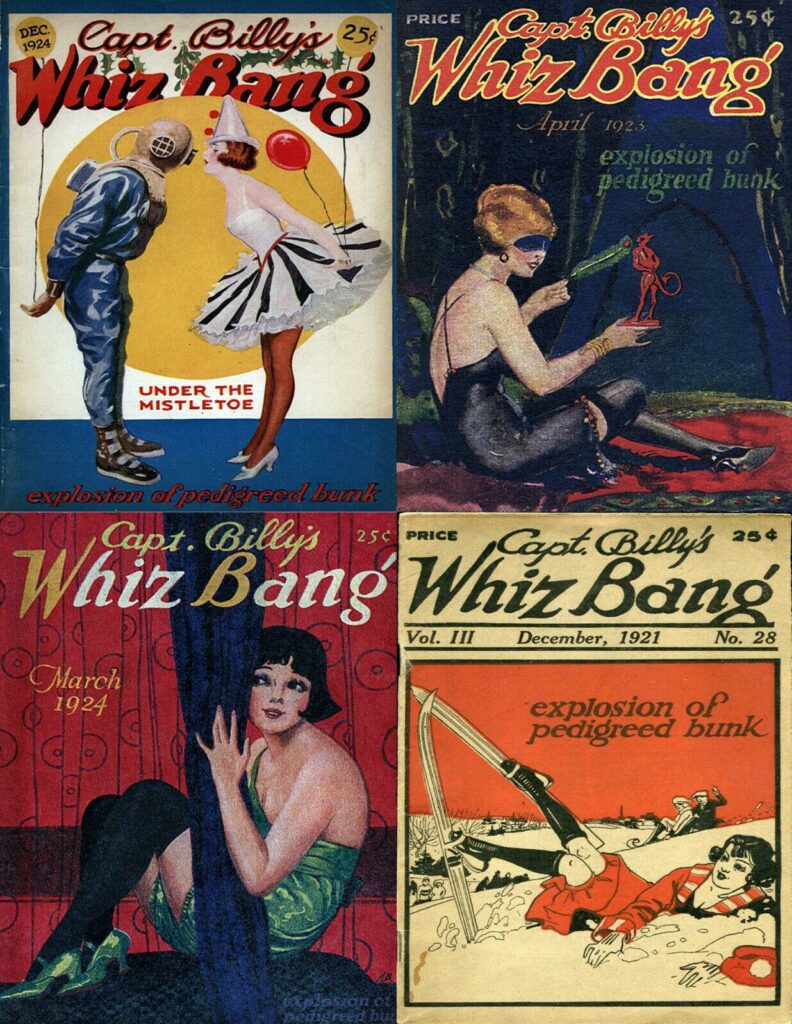 Wilford's brother Roscoe had also fought in World War 1, as a pilot in the air wing. He was appointed the editor of Battle Stories. He was more like an editorial director, though. The assistant editor was Ralph Foster Daigh(1907-1986), a graduate of the University of Missouri School of Journalism, who had been a news reporter before joining Fawcett.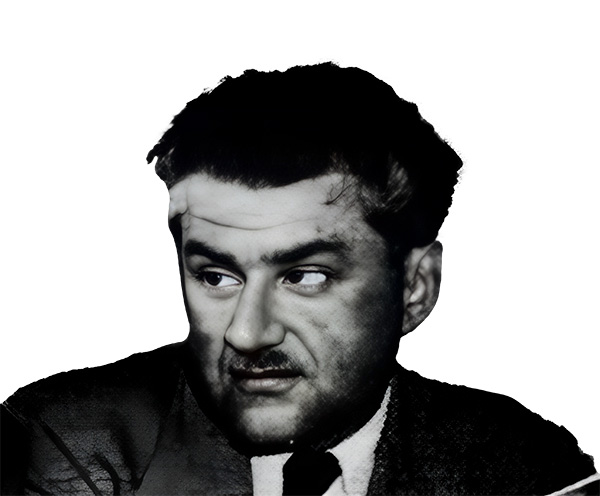 This issue from December 1930 is squarely in the middle of the magazine's nine year run. The formula was simple: a variety of stories featuring the army, navy and air force; one serial instalment and one non-fiction real life battle experience with some forums for connecting veterans. While the magazine claimed to be dedicated to "the fighting forces of the United States and Canada", stories featuring Canadian heroes were rare. There are none in this issue. It may surprise you to see the British flag instead of the Canadian flag on the spine; that's because Canada was governed by the British till 1931. It was only in 1982 that Canada became completely independent.
The cover art is by George Rozen, a prolific illustrator who did about half the covers of this title. Interior art is by George C. Smith, an illustrator about whom I could find nothing at all.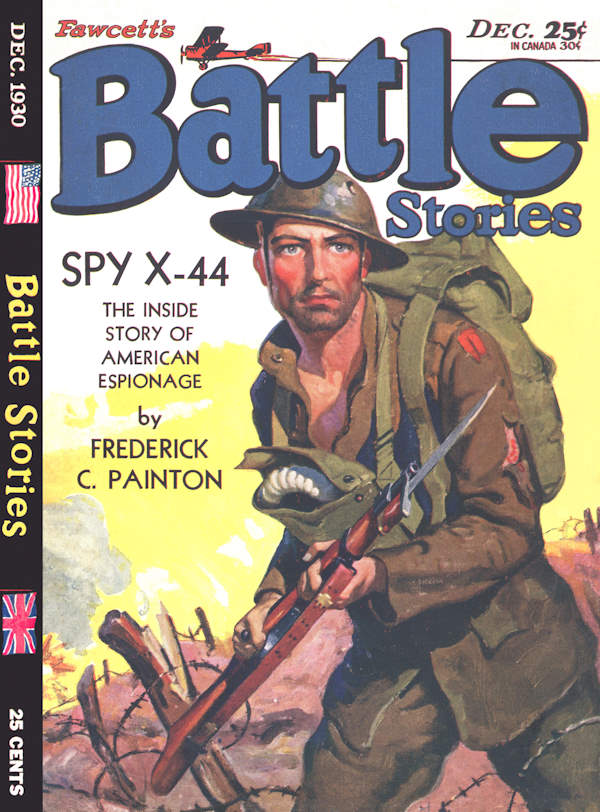 The ads in the issue are the usual mix of money-saving products, self-improvement books and training courses for increased earning, courses for learning music and impressing your social circle, and a few ads for Fawcett's other magazines: Mystic Magazine, Modern Mechanics, Hollywood, Screen Play Secrets and Startling Detective. In short, the same kind of stuff you see in web adverts today. People haven't changed that much.
The contents start with a rambling editorial by Roscoe, who boosts the annual American Red Cross fund raising drive, grumbles against war profiteers and the low salaries of officers in peacetime.
Incidentally, he says: "In war time, no expense is too great for the defense of our country and we, as citizens, eat sugar substitutes and save our prune pits so's that more money will be available for that purpose." I know what sugar substitutes are, but the mention of prune pits threw me. A little searching led me to this article.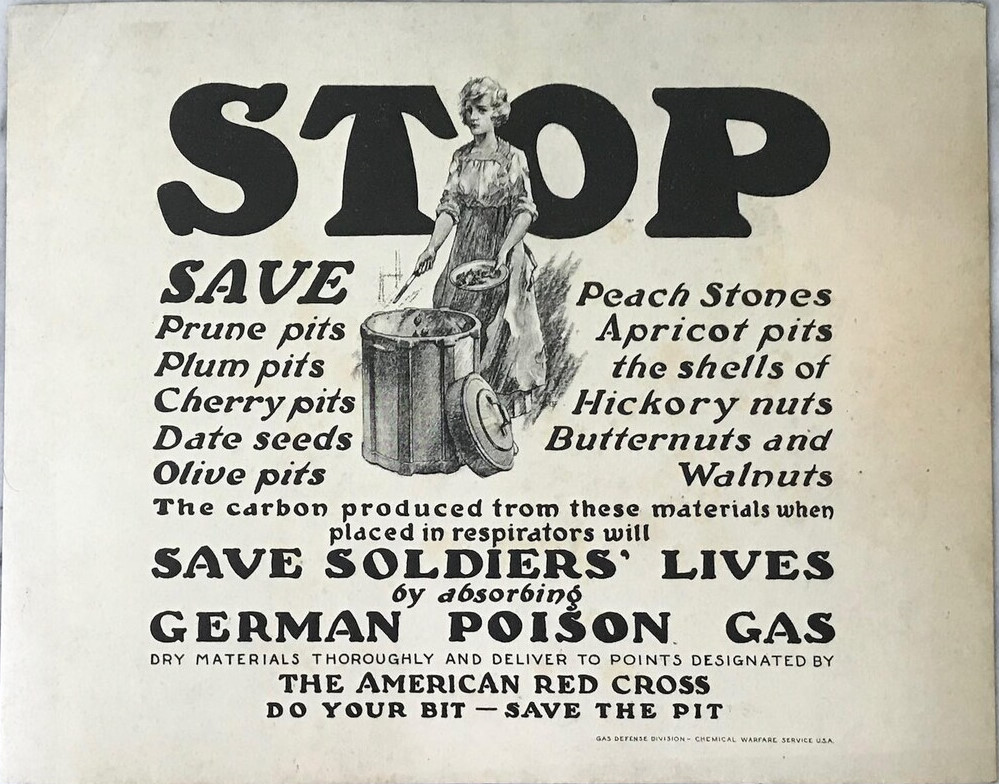 In order to build gas masks, the army needed activated carbon. Wood was needed for army buildings and supplies. The government appealed to the general populace to collect nut shells, fruit pits and stones, which were then roasted and ground. Did you know that? I didn't.
The editorial is followed by a puff piece; a one-page introduction to the Frederick C. Painton serial, Secret Agent X-44. Readers are assured by Mr. Painton that these are taken from the authentic memoirs of an American spy. Really?
The hero is cut from cardboard in the outline of the dashing romantic international agent of intrigue, one possessed of secrets, cryptic codes and marvelous disguises. About as realistic as a Picasso painting. It ends with the hero standing on a sinking ship, watching a German U-boat making off with the secret formula for a poisonous gas that the despicable Prussians have stolen. Entertaining if you don't take it seriously.
The Mad Gunner by L. B. McNicol is pure pulp entertainment, possibly the best story in this issue. Featuring a fighting Irish machinegunner named "Dynamite" Dugan, the tale is 100% exciting action. Set against the backdrop of the first attack by the American Expeditionary Force in World War 1, McNicol paints a detailed picture of a bloody no quarter given battle to the death as the Americans try to take a heavily fortified and well defended German position. The sights and sounds are described as only one who had been there could have.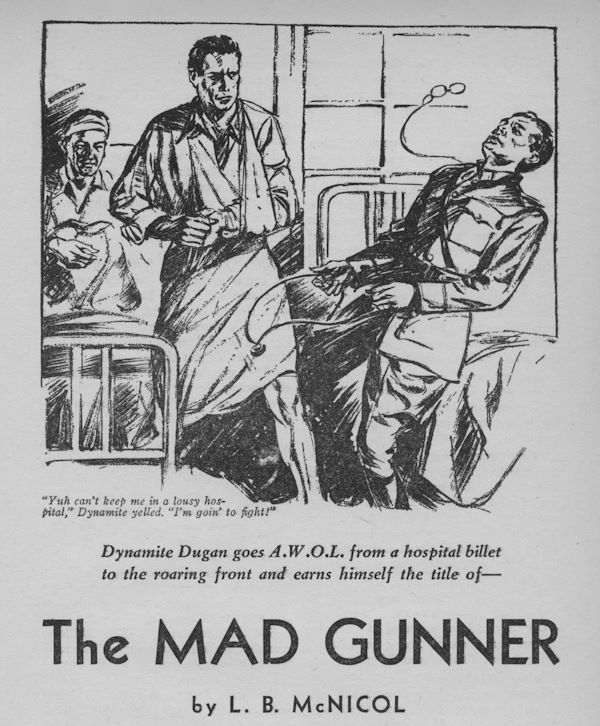 Which isn't surprising, as McNicol was a member of a machinegun platoon in the 37th (Buckeye) division which was a converted unit of the Ohio National Guard. McNicol worked as a manager in a potter's cooperative, but after injuries suffered in WW1, he often had to go to government hospitals to get treated for his injuries in the war. It was probably during those times that he wrote his stories. Lester Bechtel McNicol(1893-1938) also wrote stories under the pseudonym Chester Bridge.
Red Sabers of the Steppes by Capt. H. G. Fry is also a story by an author who had been there, done that. In the case of Hiram Gilbert Fry(1891-1955), "there" was Siberia during the Russian Revolution of 1917, and "that" was fighting in support of General Kolchak's White Russian Army, against the Communists.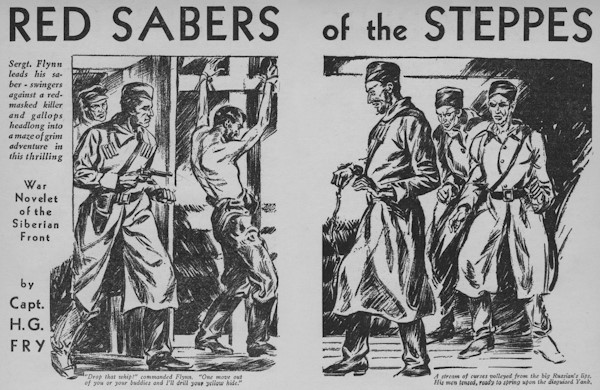 Red Sabers starts off with another Irishman, Flynn, begging to get back to grips with the Red Joker, an unknown quantity who has been killing Americans and leaving their bodies in the streets, marked with a red stamp on their foreheads. Fry throws in, for good effect, an oily, smirking Japanese captain, a Cossack giant allied with the Japanese and a treacherous, incompetent American officer. Flynn manages to clear up the mess, but not before considerable loss of life and thrilling battles. The climax is grim. Fry also fought in World War 2, rising to the rank of Colonel. He wrote a dozen stories, half of them for the war pulps, between the two wars.
Harold Bradley Say(1895-1980) was another author who had fought in WW1, serving in an artillery unit. After the war, his love for the sea led him to become a marine editor for various Oregon newspapers; he also wrote many short stories of the sea. This is an interesting submarine yarn about a sub commander inclined to bend orders if he can get revenge. His father's ship was sunk by a German U-boat which had killed all survivors including his father. An impetous act of revenge causes him to lose his command and enter into a training role. Does he redeem himself? Find out in this story that has a rather unbelievable ending that, to my surprise, happened at least once in real life.
Bomb Patrol by Gil Brewer Sr is an air war tale. Gil Brewer Sr., the father of the pulp and paperback author Gil Brewer, was a journalist and amateur archaeologist who wrote many stories for the war pulps. The writing is good and the air battles thrilling, but the resolution depends on a very improbable event.
Malcolm Douglas' Ride 'em, Doughboy! plays up every stereotype there is. Camraderie betweeen two unlikely friends, a weak-legged runt who becomes a hero and cowardly Germans who torture their prisoners. Read if you want a laugh. There are two people named Malcolm Douglas who could have written this story; one (1862-1942) is a playwright who worked with Frank Munsey, the other(1888-1968) is a Seattle lawyer who was in the army in WW1 and WW2. I think the latter wrote the stories in Battle Stories.
Terence X. O'Leary of the Rainbow Division by Guy Arthur Empey is ridiculous. Not worth reading.
Traitor Wings by Boston censor Herbert Louis McNary(1894-1983), who once had a play banned because one of the actors whispered a line to another that he couldn't hear, is another air war story. A ludicrous plot with a cartoon villain that doesn't make for good reading. McNary wrote for almost all pulp genres – war, western, adventure and sports – maybe his other work is better.
There's a letters column at the back, two pages long. Not much there of note. The Trading Post, a column for readers to trade their war memorabilia, is more interesting. It opens with an offer to trade a machine gun in working condition. Another wanted to buy grenades while a couple of weaklings offer to trade magazines, fiction and otherwise.
That's all in this issue. A reasonable package, not an outstanding issue. If i found another issue at a reasonable price, I might read more of them. Not likely, though; they're scarce and turn up infrequently.