Found a biography of author E.B. Mann while looking for something else. He started his pulp career in 1928 with a story in Ranch Romances, went on to be published in the main Western magazines – Ace-High, Western Story, Wild West Weekly, Dime Western and Star Western. His pulp career ended in 1933 with about 80 stories published in the pulps, and 8 movies based on his stories.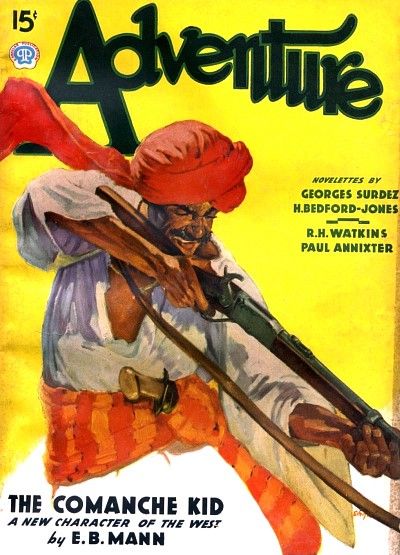 Adventure, January 1937 issue with E.B. Mann story featured on the cover
Image courtesy the FictionMags Index
The following is biographical information from the Camp-Fire column in the Adventure, January 1937 issue where Mann had his only story but getting the cover nevertheless for The Comanche Kid.
…
E. B. Mann makes his first appearance in our magazine—a new member of the Writers' Brigade which has marched for twenty-six years and included most of the noted American men authors in its ranks. Mann lives in Florida. His story you will judge for yourself, and I hope you will like the people in it as well as I did. Mann makes this introduction of himself to the Camp-Fire circle.
I would have said, if asked, that my life so far had been an interesting one. I've found it interesting, and amusing, and even—from time to time—exciting. Yet when I come to setting it down on paper it seems insipid stuff, like last night's beer. . . . Perhaps it's asking too much to expect a fictioneer to stick to facts!
I was born in Kansas in 1902; was graduated from Decatur County (Kansas) High School in 1920, and for some time after that I traveled—mostly as a non-paying passenger—from Butte to the Brazos and to and fro. The trails my father had traveled in a covered wagon I traveled in boxcars and in Pullmans, working on ranches here and there, following the wheat harvest, wielding a billiard cue, setting type in various print-shops, earning a little, learning a little. I heard the lingo and the legends of the west from childhood on, and read omnivorously.
I came to Florida with the birth of "The Boom" but I went to college while the other boys sold subdivisions. They made more money than I did, but they lost more too when the bubble burst. I had played football in high school and baseball afterward; in college, I played politics and found the game more fun, if not more profitable.
I arrived in New York City in 1927 and within a month I knew men in scores of fine offices all up and down Manhattan Island. They had said, "No," when I asked them for jobs. One gentleman finally said, "Yes," and I became an advertising man.
I sold my first story in March, 1928, and bought an overcoat. I needed it.
Some six months later I said goodbye, with some regrets, to advertising and devoted all my time to the writing of the franker forms of fiction.
Was married in 1928 to Helen Frazier Cubberly.
Children: none.
Recreations: Tennis; shooting.
Hobby: guns.
Ambitions? To live pleasantly; to acquire a backhand drive; to shoot a shotgun as well as I do a pistol; to have a hand in the redemption of the western story from its past and present low estate.
And the article i found, that has a photo and a much longer biography, is here: