L.L. Foreman was a frequent contributor to the western pulps from the mid 1930s to the early 1950s. His series character Preacher Devlin started in 1934 and appeared in more than 45 stories till 1949, becoming one of the longer lasting series characters in the western pulps. Coincidentally, Star Western had the Deacon Bottle series by Robert E. Mahaffay running at the same time, from 1934 to 1946, about both of whom l should probably have a later article.
Foreman's stories revolved around character, dialogue and plot rather than frenetic action, and the setting is usually somewhere in the American Southwest, an area he was familiar with. The harsh landscape and weather in the area sometimes figure as plot elements, but more often as a backdrop for the tough characters that are drawn to such areas. In the 1950s and early 60s, a few movies and television episodes were made from his stories, none of which set the screen on fire.
Leonard "London" Foreman, c. 1945
Leonard London Foreman, as he came to be called later in his career, seems to have been born as plain Leonard Foreman in West Ham, Essex, part of Greater London, on June 23, 1901. West Ham is 6 miles distant from Charing Cross, and lies within the East End of London. His father, Edward Albert Foreman, was a Londoner and his mother, Agnes Elizabeth Foreman (née Manuell) was from London too. Foreman was the youngest of 5 children, two daughters and three sons. His father was employed in a printer's ink manufacturing factory, and his mother was a housewife.
The 1911 census shows the family to be in London, where Foreman was attending school. He claims to have moved to Ireland in 1910, but that seems to be wrong based on the census. Perhaps they moved after 1911. He claims to be working in the Belfast shipyards and had enlisted in the Royal Irish Rifles during World War 1, lying about his age since he was not 19 years old, the minimum age for enrolment. After that he says that he was captured by the Germans and spent ten months in a German prisoner-of-war camp. None of these can be verified by me.
It's quite possible that he gave a false name and information when he enlisted, and indeed, there is a record of a E.A. Foreman, s/o Mrs. A. Foreman, private in the Royal Irish Fusiliers as a prisoner of war in 1918. Ernest A. Foreman was the name of one of his elder brothers, and Agnes was his mother's name so the initials match up, assuming he enlisted under his brother's name. Strandtown is near the Harland and Wolff shipyard in Belfast, around half an hour by foot or 10 minutes by bicycle. We can't be sure of this, though I can't find the family in England after the 1911 census, lending more credibility to Foreman's recollections.
An interesting sidenote: The Titanic was built in the Harland and Wolff shipyard, launched in 1911 and left Belfast for Southampton in 1912 to proceed on her disastrous maiden voyage. Foreman may have been there to see it.
WW1 Prisoner of war card for E.A. Foreman, courtesy of the International Committee of the Red Cross
Foreman said that after the war, he returned to Belfast and resumed his job at the docks, till the sectarian conflicts there flared up in 1920. According to him, he reached New York in 1922, having originally intended to go to Australia, and traveled around the United States. In the 1930 census, he shows up in Nassau, Florida, along with his mother.
He claims to have worked a variety of odd jobs as he travelled around America – blacksmith, printing-ink maker, auto-factory worker, bartender, copper miner, house painter, hobo, harvest hand, ranch hand, dishwasher and poultry farmer among them. In the 1930 census his occupation is noted as printer.
On 1933, he married Theodora Pace of Birmingham, Alabama. The marriage took place in Florida, and the marriage certificate gives us another puzzle. The names of his parents are correctly noted, but he records his birthplace as Boston, Massachusetts, and living in Kalamazoo, Michigan. At this time, his profession was ink maker, and his wife was a school teacher. He was still Leonard Foreman at this time, the London was to come later.
In 1934, his first story appeared in a pulp magazine – Noose Fodder in Western Aces, December 1934. Western Aces was a second rung western pulp from A.A. Wyn's Magazine Publishers; it didn't publish any of the big western names like Max Brand or Walt Coburn. The second issue of Western Aces was the first appearance of Preacher Devlin, who wasn't a minister, but was called Preacher because of his appearance – Devlin wore a long black coat and a black hat with flat brim and crown. Another reason for his nickname was that he ended up doing the right thing, even though he had to compel himself to make that choice rather than leave people to their troubles and deal with his own.
"The original character, around whom I built The Preacher," Foreman recalled, "was an Irish cop in Belfast, Ireland, where I grew up. And was he tough! Charming rascals, out for all they can get, but who so often come clean in a tight, have appealed to me, too."
The writing and the character must have struck a chord with readers, as there were 29 stories of this character in Western Aces from 1935 to 1937. He got his first cover in May 1935, in just his fourth story.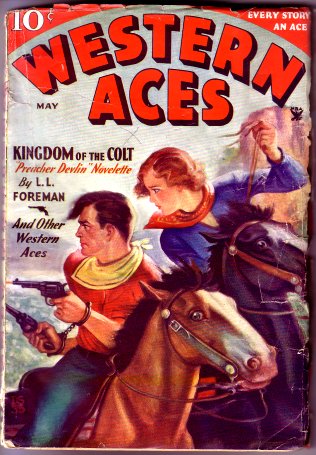 L.L. Foreman's first cover credit – Western Aces, May 1935
While coming up with nearly one Devlin story each month, he was also trying to break into other markets. 1935 saw his first and only appearance in Cowboy Stories, which was his first sale to Street and Smith. 1936 saw his first appearance in Adventure, with a story of a Belfast dock worker based on a person he knew back when he was working in the shipyard.1937 saw him crack another market, with two stories in Dell's All Western.
In 1938, he took the Preacher Devlin stories to Street and Smith's Western Story magazine. The Feb 26 issue of that year had an advertisement for the March 5th issue that featured Foreman and Preacher Devlin prominently.
Ad for L.L. Foreman story in Western Story Magazine, February 26 1938
Having broken into Western Story, then the most prestigious pulp western, his output actually declined to 8 stories there in 1939, and 5 each year from 1940 to 1942. and no stories in 1943 and 1944. It was probably because at this stage, he was trying to break into the slick magazine market, as Ernest Haycox and Luke Short had done before him. He and his wife were wandering around America in a trailer, and settled in Santa Fe, New Mexico in 1941.
He couldn't crack the slick market, though he did sell a few stories to Collier's, Cosmopolitan, Redbook and one story each to The Saturday Evening Post and Liberty between 1943 and 1946. He was selling two to four stories to the slicks each year, and while they paid well, in the same time he could have sold much more to the pulps.
So he came back to Western Story with one story in 1945, and started selling a steady stream of stories to the pulps from 1946. By 1950, he was up to a dozen stories a year, and then the pulp market collapsed. Western Story stopped publication in 1949, and wouldn't resume till 1952, when Popular Publications bought the title from Street and Smith and tried to revive it. He did make sales to other magazines, but the market had gone, and from 1950 to 1954, he sold more than half his stories to Zane Grey's Western Magazine, an attempt to create a digest size western magazine that was ultimately unsuccessful.
At the same time, he was getting into the paperback market, some of his books were fix-ups of pulp stories (Jemez Brand and Powdersmoke Partners were Preacher Devlin stories), some were originals. In 1952, one of his stories, The Renegade, originally a 5 part serial in Western Story in 1942 was made into a western movie, The Savage, 1952 that starred Charlton Heston.

Poster for The Savage, starring Charlton Heston, based on a L.L. Foreman story, The Renegade
And over the 1950s another 3 of his stories were made into movies: The Lone Gun and Arrow in the Dust in 1954, The Storm Rider in 1957. Two episodes of Cheyenne were based on his stories as well. And in 1961 the last movie made from one of his stories, The Gambler wore a gun was released. And that's all I know about Foreman before his death on 8 September, 1969 in Polk County, Oregon. He may have remarried before his death.