Robert Gould holds two of his artist father's General Electric school and college posters in which he and his brother, Bill, were models (Photo from the Times Herald-Record)
Some sketches from John Fleming Gould's notebooks (Photo from the Times Herald-Record)
Review of Strange Tales, June 1932
Strange Tales, a rare Clayton pulp, was a rival of Weird Tales. It lasted for only 7 issues, but is much sought after.
This review of the June 1932 issue shows why
: great stories by Hugh B. Cave, Robert E. Howard and Clark Ashton Smith and most of the best authors from
Weird Tales
.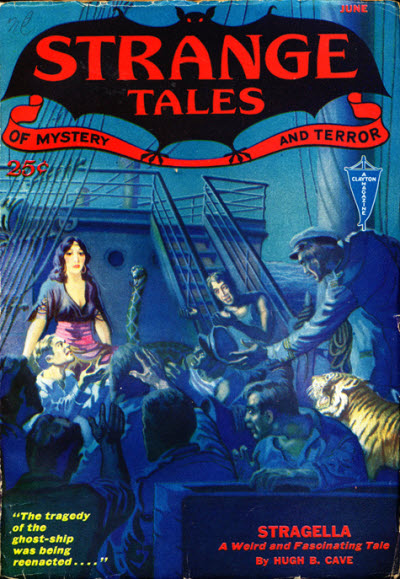 Strange Tales, June 1932
Harold Lamb article by Howard Andrew Jones
Harold Lamb and his most famous creation, Khlit the Cossack
Smart Blonde (1937)
Frederick Nebel's McBride and Kennedy stories were made into a series of movies by Warner Brothers. The character of the female reporter Torchy Blane was loosely based on Kennedy.
A.R. Mitchell Museum of Western Art
I've always wanted to visit this museum. A.R. Mitchell was one of the best pulp artists. He was taught by Harvey Dunn, whose impressionistic use of color clearly influenced Mitchell.
Within this Trinidad museum named in his honor, you will want to see the pulp art created by A.R. Mitchell. He was one of the foremost artists featured on pulp magazine covers, and his work displayed at this museum spans a period from the 1920s to the 1950s.
Housed in a turn-of-the-century building, the A. R. Mitchell Museum of Western Art also has many great examples of Hispanic and Native American art along with historic photographs of many iconic Colorado locations. If you love architecture, this place is worth a stop just to see the building. It has a tin ceiling, walls painted with period-appropriate paint and a beautiful staircase.
More on Arthur Mitchell in this video from one of his students, including a few of his covers: