For the first time ever, I have a guest blogger and it's none other than Walker Martin, who presents this report on Pulpfest 2019. Steve, we all wish you a speedy recovery.
If you have been following my pulp convention reports for over the last 10 years, then you know they all have appeared on Steve Lewis' excellent MYSTERY FILE website. He has published and encouraged me to report the activities for Pulpfest, Windy City, and PulpAdventurecon. However when I arrived back from Pulpfest I read an email from Steve that said since he was to undergo hip replacement surgery in September, then the report would probably not be published in a timely fashion especially since he is busy now trying to reorganize his house so that he can navigate through the rooms after the operation.
He recommended that I instead ask Sai to publish my report. Both Sai and I wish Steve the best of luck and hope that he soon recovers from his surgery. I've been friends with Steve since around 1970 and I've been reading MYSTERY FILE all those years, first as a print publication and lately as the online blog. It feels strange to not be sending this report as usual to Steve but thanks to Sai it will appear on PULP FLAKES.
As usual our band of pulp and book collectors gathered in Morristown, NJ on Thursday morning, August 15. This is a trip that we have made many times over the last 10 years. It's always the same five collectors and dealers. In addition to myself the group consists of Ed Hulse, Digges La Touche, Nick Certo, and Scott Hartshorn. I've been friends with them all for over 40 years except Ed who we have known for only *over 20 years*.
[Editorial note: For the first time ever, I obtained exclusive pictures of the band of pulp collectors. ]
Leaving at 9:00 am we arrived at the convention hotel around 4:00 pm and quickly began unpacking in the dealer's room. Four of us have tables but Digges has a firm policy of only buying and never selling, so he disappeared under a nearby table to find pulps. The room was quite crowded at 4 pm and many dealers had started to set up at 1 pm. The official attendance was an improvement over last year and announced as 430. There must have been around a hundred dealer's tables packed full of pulps, books, original artwork, paperbacks, digests, dvds, and comics. Jack Cullers mentioned to me that they were pleased to see many new attendees.
The Pulpfest convention room, or Alibaba's cave of paper treasures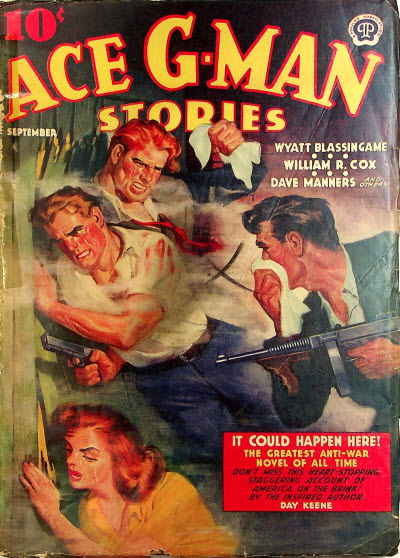 Another photo showing the collector band breaking down the door to get in.- Sai
Recently, a discussion group that I belong to talked about how digest fiction magazines like SF digests, simply did not sell well but Curt Phillips mentioned to me that he sold a lot of digests at this show. Several interesting books made their debut at the convention. Among them were THE COMPLETE TALES OF THE SCIENTIFIC CLUB by Ray Cummings, published by Altus Press; EVA, MEN'S ADVENTURE SUPERMODEL by Robert Deis & Wyatt Doyle; and a new issue of BLOOD n THUNDER magazine. It's been rumoured that this magazine was deceased but Ed Hulse decided to revive it and if sales are good enough then there will be more issues. No subscriptions accepted but copies can be bought on amazon and on the Murania Press website.
Tales of the Scientific Club by Ray Cummings, deluxe edition from Altus Press
The Scientific Club collection is enormous and deals with one of my favorite plots, mainly a bunch of professional men sitting around a club talking about strange stories. In fact this is what I do whenever I meet with fellow book collectors! The Eva book I had to buy since it shows one of the most gorgeous models posing for many of the men's adventure magazines. These publications are all must buys.
Mike Chomko Books always has all the latest pulp and paperback books and this year they had three Stark House collections that were recently published. I already have THE BEST OF MANHUNT, which reprints many of the best stories from this great hardboiled digest magazine. MANHUNT was the best of the crime digests and often imitated by lesser titles. The other two Stark House collections were by Gil Brewer, one of the best of the crime writers who wrote for the digests. DEATH IS A PRIVATE EYE collects together the unpublished stories by Gil Brewer and REDHEADS DIE QUICKLY by Brewer is an expanded edition of the earlier collection.
Now you might wonder what I bought and sold. As usual my best seller were the cancelled checks that Bob Weinberg had sold me back in the 1980's. These were all from Munsey and Popular Publication files and full of fascinating information about the prices paid for stories and artwork and the date and title of the pulps that they appeared in. I bought several books but my main buys were two excellent pieces of original artwork. Both were used as covers, one on the September 1951 issue of BLUE BOOK and one on the February 1958 issue of REAL LIFE ADVENTURES. I've been hunting for a wrap around cover of BLUE BOOK for decades. By wrap around, I mean the cover is not only on the front of the magazine but wraps around to the back cover also. It shows Matthew Brady, the Civil War photographer at work.
(Sai: I forgot to take a picture of the painting itself, it's this cover.)
The REAL LIFE ADVENTURES cover is also a civil war cover and notable for *not* having an undressed damsel in distress on the battlefield. If it had indeed shown such a babe, I never would have been able to afford it since we all know sex sells, especially on the men's adventure magazine covers.
Cover by John Leone for Real Life Adventures, February 1958
So much is going on at these pulp conventions that I am constantly busy, day and night. There is not much time for sleep because once the day time activity ceases then the fun continues during the evening and night.. Each evening we ate at a different restaurant and this year was notable for me eating the worst Mexican meal in my life. I ordered two mistakes, one being the shrimp, rice and beans drowning in cheese and the margarita that was so sweet I didn't want to drink it. But being a long time advocate of drinking beer and alcohol, I managed to chug it down.
Speaking of boozing, the hospitality room was kept well stocked with craft beer and snacks. However I again missed the pizza delivery. Next year I'll try and pin down Mike Chomko as to the exact delivery time of the pizza. The evening programming was excellent as usual and there were so many great panels and discussions that I cannot list them all. However I especially enjoyed the Hammett discussion by John Wooley and John Gunnison. Every time they mentioned drinking or alcohol, John Gunnison would uncap the bottle of whisky on the podium and they both would down a shot.
John Wooley and John Gunnison doing the presentation on Hammett, the nearly empty bottle is in the foreground.
Despite this heavy drinking they somehow remained lucid and fairly sober. Two interesting things about this discussion, the question was raised as to why Hammett stopped writing and my theory was as he got older, his body simply could not deal with the massive amounts of booze that he was drinking. When we are younger, we can drink more but as we age we have to drink less or it has a bad effect on our ability to write and think. Hammett is a good example of this theory because as a young man he wrote all his great fiction. But he ran into a roadblock trying to write his mainstream novel, TULIP. I think it was the alcohol. The other interesting point revolved around the comment that Hammett made concerning Henry James and THE WINGS OF A DOVE and Hammett's fiction being similar. I like both writers but they are as different as night and day as far as writing style. The only similarity between WINGS OF THE DOVE and THE MALTESE FALCON is the fact that birds are mentioned in the titles.
I also liked the Wyatt Doyle discussion of men's adventure magazines(Robert Deis unfortunately could not attend). There are over 160 different magazine titles and we need an encyclopedia or big book discussing these magazines. There are plenty of reprints coming out edited by Deis and Doyle but we need more original research into the magazines. I have hundreds of issues but no where near the complete collection needed for a book. Rich Oberg has the original art and many magazines but unfortunately is ill. Perhaps Robert Deis can spearhead the research based on his large collection of men's magazines.
Another excellent discussion was by John Locke on the author, Arthur J. Burks. He intends to eventually publish a book based on his original research. Also Ed Hulse will be soon be publishing a book about the subject of his talk on pulp stories adapted by Hollywood and made into movies.
I also liked David Saunders discussion of women pulp artists. Each year David can be depended upon to give a talk on pulp art.
David Saunders giving his talk on women artists who worked for the pulps
Other programs of interest dealt with editor Bob Davis, Zorro, Fritz Leiber, Sherlock Holmes, Twilight Zone, Philip Jose Farmer, and Charles Beaumont. The Fu Manchu Film Festival was excellent and repeated a couple times during the weekend.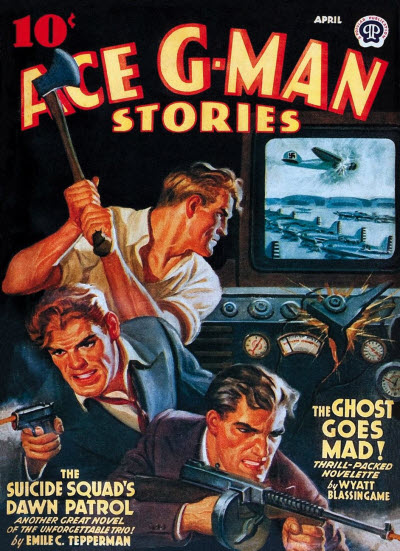 I think a few of the pulp band didn't like the film programming as much as Walker did – Sai
The auction is always of interest and over a hundred lots were bid on, including several letters by John Jakes, John Nanovic, Ned Pines, Talmadge Powell, Theodore Roscoe, Alex Schomburg, Henry Steeger, Dwight Swain, Jean Francis Webb, and Harry Whittington. $700 was realized on a box of Al Tonik's notes and interview tapes.
This year's issue of THE PULPSTER magazine had several interesting articles on THE THRILL BOOK, ROMANCE(the companion magazine to Adventure in 1919-1920), Bertrand Sinclair, Johnston McCulley and other subjects. Edited by Bill Lampkin, it is always of great interest.
Each year the Munsey Award is given out to a collector who has contributed to pulp research. I always find this award of interest because it is one of the very few ways we can show our appreciation. This year the award winner was George Vanderburgh, a Canadian physician who has published hundreds of books under the Battered Silicon Press imprint. I've known George a long time now and he is one of my favorite people. Congratulations George!
I would like to mention one insane habit of mine. Since the first Pulpcon in 1972 I've made an attempt to keep each year's badge. I think I've misplaced a couple but I have almost all of them marching across a long bookshelf that covers a wall. This reminds me of Andy Biegel who also kept his badges and even made a vest that he could wear with all the badges. Andy is no longer with us but he was one of the few collectors that was a two fisted drinker.
Finally, I would like to thank the Pulpfest Committee for another excellent convention. Without these men and women there would be no convention and we would be like the dime novel collectors, wandering in the wilderness with no place to go. So thank you from the bottom of my heart: Jack Cullers, Sally Cullers, the members of the Cullers family and friends, Mike Chomko, Peter Chomko, Bill Lampkin, Bill Maynard, and Barry Traylor.
Thanks to all members of the organizing committee. Shown here: Jack Cullers and Mike Chomko
The next pulp convention will be PulpAdventurecon in Bordentown, NJ on November 2, 2019. The next Pulpfest will be August 6-9, 2020 at the same location(follow pulpfest.com for details). I hope to see everyone once again in that magical room crammed with thousands of pulp magazines!
[Here's a picture of the pulp collector band taking off after Pulpfest, with all their loot in the back of the armored car, a couple of them are in the back reading/sleeping. I don't know who the lady is… – Sai]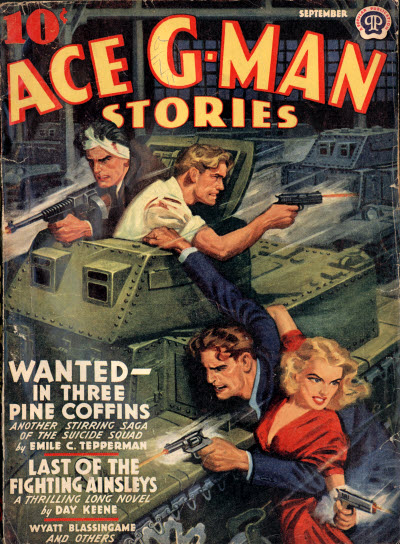 —Walker Martin
[Sai: More pictures to follow as soon as i get them processed at the pulp factory…]