Famous Fantastic Mysteries was launched in 1939. The stories were reprints from the Munsey files – stories from the early years of All-Story, Cavalier and Argosy. For fans who had grown up after these titles had died or changed direction, this was their first encounter with the best of the stories from that era. It quickly built up a vocal readership, with a letters column running into multiple pages in each issue. Fans used the magazine to communicate with each other, to respond to other and to comment on the magazine itself.
Mary Gnaedinger was the editor behind this unlikely success. She had earlier worked on Clayton's Ranch Romances as associate editor with Fanny Ellsworth. Following that, she joined Louis Silberkleit and Martin Goodman's Graham Publications where she edited Romantic Love Secrets, a romance western pulp. Silberkleit and Goodman were notorious penny pinchers and many of their early magazines carried reprinted stories without identifying them as such. Perhaps Gnaedinger learned to use reprints there.
In the mid/late thirties, she came to Munsey. Munsey was in financial trouble and looking for a cash cow. I don't know who had the idea of reprinting old fantasy/science fiction stories, but Gnaedinger was chosen to edit it. She did an excellent job, selecting stories based on reader recommendations, enthusing readers to form fan clubs and encouraging the use of the letters column as a letter exchange. The content package was rounded out by magnificent illustrations by some of the best science fiction illustrators of the day, Virgil Finlay and Lawrence Stevens. The magazine was so prized by readers that many sets were preserved, and to this day it remains one of the best value for money pulp you can buy. For an excellent history and survey of the magazine, I recommend Blood and Thunder's Summer 2015 issue.
The reprint experiment was so successful that Munsey tried to repeat it in the western field with Crack-Shot Western, of which Gnaedinger was also the editor. Sea Novel Magazine, also edited by her, failed after two issues. Neither western nor sea story fans exhibited the same affection for past stories as did science fiction or fantasy fans. The oft-repeated statement about the golden age of science fiction being twelve may have been true from the very beginnings of the field.
When Munsey was bought by Popular in 1942, Gnaedinger moved to Popular and kept Famous Fantastic Mysteries alive through World War 2 before it succumbed to the digest revolution in 1953. To my regret, I have not been able to find any interviews with her in newspapers or the trade magazines. But I did find these two articles in contemporary fanzines where she talks about editing science fiction/fantasy. Scans of these rare fanzines came from FanAc and the Rusty Hevelin Fanzine collection at the University of Iowa, to both of whom much thanks.
BEHIND THE SCENES AT MUNSEY by MARY GNAEDINGER
Spaceways, December 1940. Page 5. (Scan obtained from fanac.org)
I think the most interesting difference between the old and new fantasy is the build-ups. The old stories seem to me to have the groundwork very deliberately taken care of—for instance, one approaches the moon in a rocket ship by slow and careful explanatory stages in an old story. In a new one we land right away on the weird place. Of course writers couldn't continue to explain everything over and over again—hence the difference. To me the old way is more interesting, and I've noticed that one of the charms of the great Merritt is that he makes much of anticipation. Some of the new stories are superior to older ones because of their lively pacing, however.
As for picking material—you all know we have literally hundreds of stories. The finest are known, rated, and demanded by science fiction fans—so they are easily rounded up, even by a brand new editor. Some of the older ones of the best quality are not so widely known. Finis by Frank Lillis Pollock was recommended by Larry Farsaci, but I did not get in touch with Larry for quite a while. Abe Merritt remarked that Claimed by Francis Stevens was a fine story, but he had forgotten the title. He identified it by the "white horses" and it was some time before I found those horses while reading assiduously between getting out issues. The story, as you fans probably know, is a knockout. It was recommended by title later, and it will appear soon in F. F. M.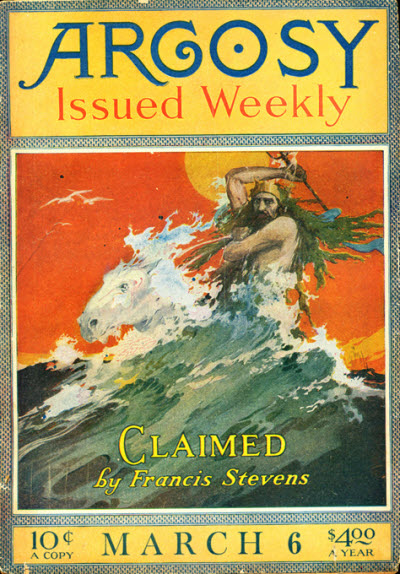 Mr. Merritt also spoke of The Citadel of Fear by the same author. Hannes Bok told me about The Middle Bedroom and I ran into Out of the Dark (Famous Fantastic Mysteries October 1940, Argosy Allstory Weekly April 12 1924) while leafing through the books at random.
Readers' letters provide mines of information. As soon as I hear a new title I hasten to find out what the charm is that has made someone remember it, perhaps since 1897. Sometimes there is no accounting for it.
As for the future—I find myself all dated up with the readers for the sequels to the stories I have already run. Then the Merritts have to be released every so often, and a few musts like Garrett P. Serviss, Giesy's Palos of the Dog Star Pack, etc. There are some nice short stories earmarked, and many more to be read. Eye on some "outsiders" not published by the Munsey Company.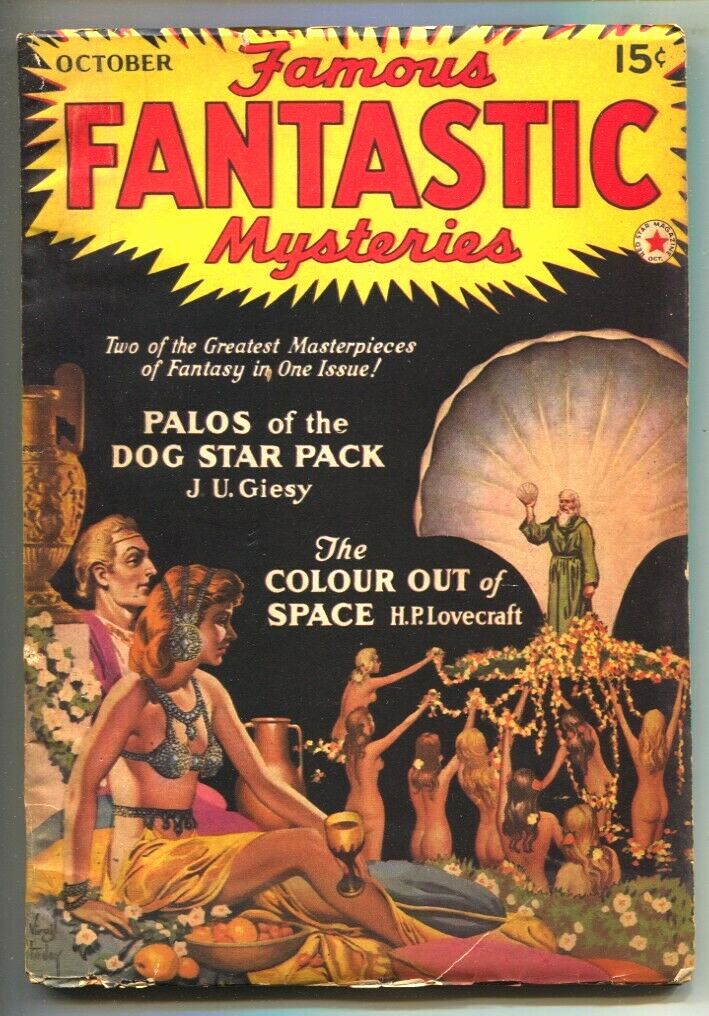 The artists are swell fellows. They are all "fans" and they enjoy putting the right pics to the stories. We don't give them a slip of paper saying "draw two dinosaurs fighting". We give them the story to read and study, and you know the results. "Paul and Finlay are tops—don't ever lose them."
This editor was not strictly a science fiction fan when thrown into the Moon Pool something well over a year ago. Liked Arthur Gordon Pym, First Men in the Moon, etc. Had a little science fictionist in her home and heard all about the special charm of certain stories and authors. She is now a full-fledged fan, member of the Queens Science Fiction League's Women's Auxiliary and the Futurians. Has met many of the writers, and they are swell people. Has a lively correspondence with all of the fans.
Editing is a problem mostly as regards out-of-date remarks that could spoil the story for new readers. Some are so far out of date that they have to be considered antiques and as such not to be tampered with. Very little changing is done.
EDITOR MEETS FANDOM, By Mary Gnaedinger
Editor: FAMOUS FANTASTIC MYSTERIES
SUN SPOTS April, 1941 Page 17
When I found myself magic-carpeted into an Editorial chair in the Fantasy Fiction Field, I realized fully that the world I had entered was one almost apart- a more romantic friendly and inspirational world of literature- where an editor comes into personal touch with its inhabitants in a way which no other kind of editor does with his readers.
Our readers seem to make friends with us "right off the bat". As soon as an issue hits the stands the letters come flowing in to tell you how to go on with the magazine from scratch– and these readers know how, too! They don't write measly little bits about "I think that your magazine is great, yours sincerely." No siree– three or four page typewriter letters analyzing your method minutely- letters that one reads over a second or third time, and it isn't all orchids, either. But they all wish you personal good luck, and guarantee that you'll hear from them again as soon as they get hold of the next issue.
One can easily realize how very satisfactory and much more interesting this all is than just getting out a magazine by yourself; there is no chance of becoming lonesome. You just have a friendly good time while working. However, that is only one phase of the social aura of the fantastic field. The fan magazines come to our desk regularly, and it is just like reading the home town paper. You know everyone mentioned, and all the news you could have missed in the mail is in the fan magazines.
Another activity that gives much of the "kick" in being an editor in this field is the club meetings which enable you to meet many of the local readers and some visiting ones. Where is there an editor who is in such actual direct touch with his or her constituents as in the weird, science fiction, and fantasy fields? And if you happen to miss the meetings, the fans call on you.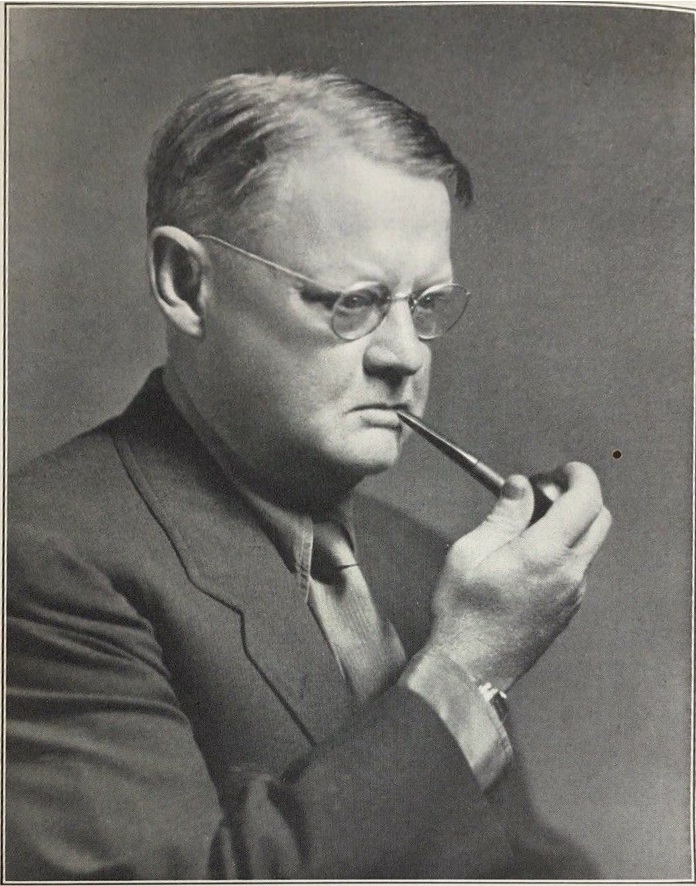 The authors are no exception to fandom; nor the artists. Mr. Paul tells me that he attends the Queens Science Fiction League meetings pretty regularly; Mr. Finley goes to fan and writer parties; Mr. Merritt keeps careful track of the Readers Viewpoint in FAMOUS FANTASTIC MYSTERIES, even as you and I; Mr. Farley was at the Chicago Convention with the rest of the boys- and so on.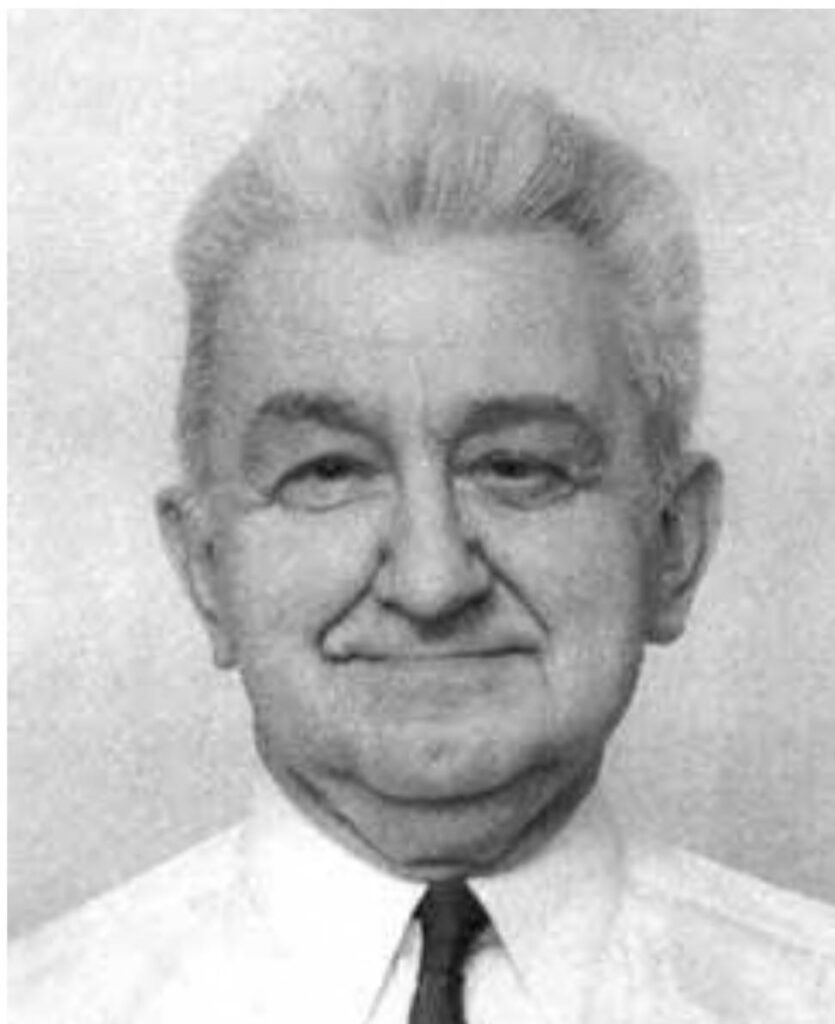 The first time I went to a fan meeting was out in Astoria, at Bohemian Hall. Frank R. Paul took me out on the complicated subway-catacomb, "el" route, and I was somewhat nervous because I knew they took your magazine apart right before your eyes. The target at this particular meeting, however, belonged to a contemporary and the comments were for the most part complimentary. I saw some familiar faces in the large meeting room, but most of the boys and girls were readers whom I'd never met.
Some of the time was taken up with reports on all the stories, in detail, in the issue of the magazine under discussion. Fantastic original magazine drawings were raffled off; that's when I began to really meet my readers! We put in about three hours of close and careful discussion of why I had used certain Munsey classics first, and whether certain others were worthy of seeing light once more. The fans knew as much as I did about most of the stories, but there were always some an individual hadn't happened to get hold of, and wanted to get the low-down on. I came back to my office much better informed on the fantastic field than I had been before the meeting. What other editors get breaks like that?
On another occasion an informal initiation into fandom took place at the Ivory Tower, presided over by Doc Lowndes, and at that time the Futurians meet away out in the Bedford Ave. section of Flatbush. If you want to know how it feels to go down Lewis Carroll's Rabbit Hole, you should attend one of these meeting. The place was lined with famous books of classic fantastic fame. Doc wore a Russian smock and carried a fencer's rapier as symbol of authority. The purpose of the meeting was to accomplish nothing, which was done with wit and humor of no mean quality.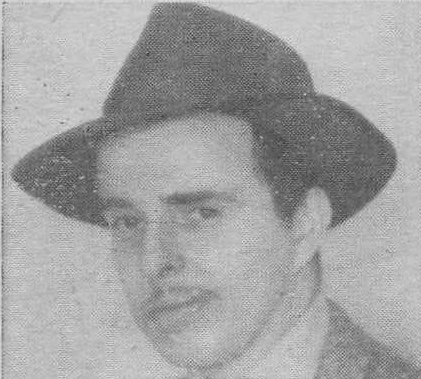 There were several charming young girls there. Of course everyone knows fandom is not monopolized by the boys. Everyone did as they pleased- two played cats' cradle and two others played chess. There were some mock challenges and mock quarrels. It was, in short, a getoff on serious club meetings that might well have ended all club meetings (except that kind).
The writers of for these readers of fantasy fiction are fascinating in somewhat the same way. One gets the feeling that they are fans who have turned writer as well as fan, I was strongly impressed with the outstanding popularity of Abe Merritt.
Mr. Merritt with his wife and daughter live out Queens way, in a cottage type house perched high on a tree-obscured street, and almost hidden itself in trees and garden shrubs. As the fans all know he is editor of the Sunday Magazine Section of a great metropolitan paper. From the trying responsibilities of this work, he relaxes by polishing rare stones on an electrically run lapidist's wheel.
Ko-ko, his African grey parrot, which lives in an enormous wicker cage, punctuates all conversations of guests with strange derisive sounds, one of which is no other than the Bronx cheer.
Mr. and Mrs. Merritt have curios collected from all over the world, charmingly arranged, and among their collections of oddities are gifts from Mr. Merritt's readers- one miniature "set" from one of the his great fantasies.
Among the other author-fans is Ray Cummings, a popular old timer, who is tall, slender, and a dignified looking personage, who looks all the world like the romantic conception of a great writer. Ralph Milne Farley, another enthusiast, is also tall and lean. He is dark, good looking , and very youthful.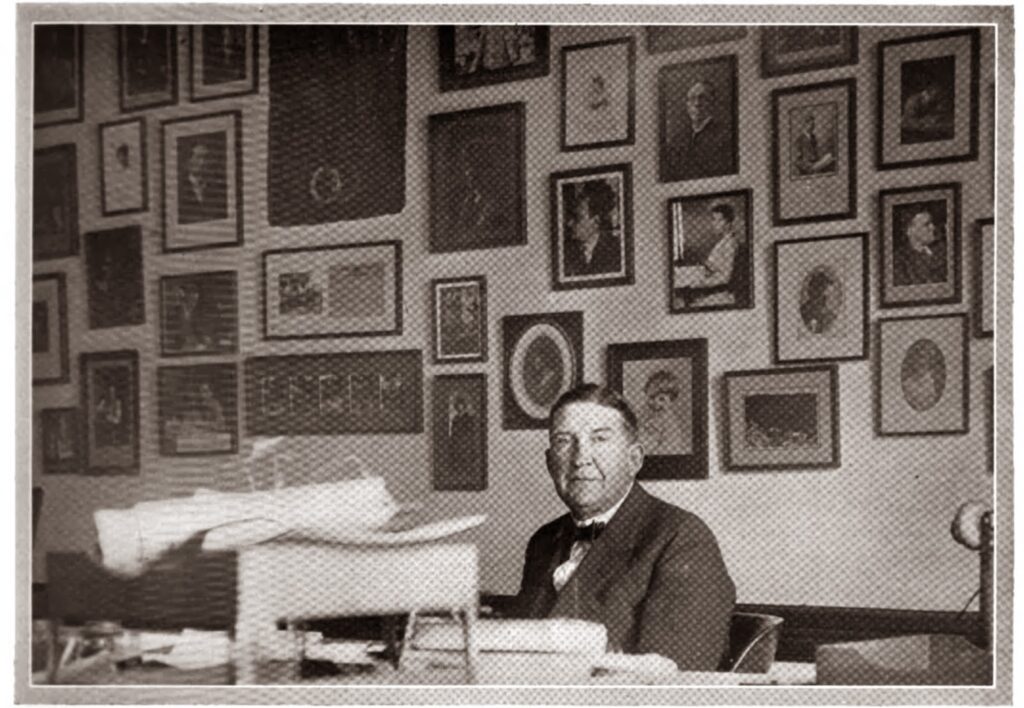 The man who encouraged these writers and also authors like George Allan England, Homer Eon Flint, Austin Hall, Otis Adelbert Kline, Victor Rousseau, etc, is Bob Davis. His office is two doors from that of FAMOUS FANTASTIC MYSTERIES and he writes the famous column "Bob Davis Reveals" for the New York Sun. The Munsey classics were chosen, bought, and edited by Mr. Davis, and the writers, great in their own right, always got greater inspiration from the one and only "Bob." It is because Bob Davis knew a fine story and George Alan England could write one, that we now have "Darkness and Dawn" and its sequels, "Beyond the Great Oblivion" and "The Afterglow", to give you in FAMOUS FANTASTIC MYSTERIES.
THE END