This was originally published in the Wichita Eagle.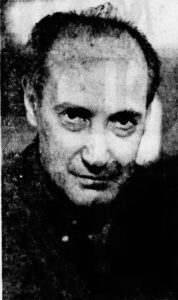 Suspense Writer Hits Town
Mystery Is 'Why Dunnit'
By BARRY PARIS
Eagle Staff Writer
It's not "who dunnit?" in mystery writing any more it's "why dunnit?" according to suspense writer Harold Q Masur. Masur, author of Bury Me Deep which sold well over a million copies and was translated into five European languages and Japanese, is in Wichita this week visiting friends.
"MYSTERY WRITING now is a psychological exploration of motives," Masur said. "It seems to me the average man or woman leads a hum-drum existence. The hunger for vicarious excitement can frequently be satisfied through the world of fiction".
Masur's mystery writing began about fifteen years ago when he realized his law career was perhaps not what he wanted to pursue permanently His legal background— including a degree from New York University — served him well though as his main character was to become attorney Scott Jordan.
LAWYER JORDAN is something of a Perry Mason who gets in and out of danger-legal and otherwise. The author's first Scott Jordan book Bury Me Deep earned Masur the 1952 Storyteller's Award from the Mutual Broadcasting System for achievement in popular fiction. Since then Masur has become a Random House author and Columbia Pictures recently purchased the rights to his million seller. No fewer than eleven Scott Jordan novels have followed (The Last Gamble and So Rich, So Lovely And So Dead for example) as well as a collection of short stories and some TV scripts.
TWO YEARS AGO Alfred Hitchcock used Masur's The $2 Million Defense for television.
Springing to literary prominence has its humorous moments, Masur indicated. In one of his novels he mentioned that a character was drinking Veuve-Cliquot champagne. "I received a letter from the champagne importer saying I was to receive a case of the product since I'd mentioned it in my book," Masur said. "I thought this was a regular practice in industry so now I keep mentioning Cadillacs in my works but I never get a sample from General Motors," he said.
In early 1963 Masur was summoned to the Pentagon in Washington for a series of top-secret national security meetings with the Joint Chiefs of Staff. It seems the Chiefs were calling on industrialists, labor leaders and authors — Twilight Zone's Rod Serling was included — to come up with some imaginative ideas for unconventional analyses of security problems.
MASUR HAS NOT only experienced the Pentagon but also the ''Women's Literary circuit" around which he toured for about a year recently. "I ate 874 pounds of chicken a la king," he said. "But what people are really hungry for is new ideas in writing."
Does Masur plan any non-fiction or "social conscience" books?
"PROBABLY NOT" he replies – "because I'm strictly a story-teller and I have no illusions that I have a message the- world is panting to hear. I'm satisfied to divert people." He is working however on a novel about a lawyer who — in the middle of a case he's clearly winning — discovers his client is not only guilty but is also a psychopath.
Where does a mystery writer get ideas?
"Sometimes I use incidents from the newspaper or I go to the law library and develop and recast characters from actual cases" he said. "You learn to spot the fiction possibilities in a particular situation and then it cooks subconsciously."
THREE MYSTERY novels were listed on a recent best-seller list, Masur noted, for the first time in publishing history. "More people are realizing that there's not just escape in such books but also some real talent" said the author. "It's a difficult thing to write a commercially acceptable novel which doesn't concentrate on the sexual aspects — which are just about a prerequisite today," Masur said.
There's a longer interview of Masur by Gary Lovisi on Mysteryfile.