Last week, we found Fanny Ellsworth taking over from Joe Shaw as the Black Mask editor. She changed the magazine, selecting stories with a deeper tinge of darkness than Shaw would have. Let's see how, taking the December 1938 issue as an example. I selected it because it's right in the middle of Ellsworth's reign from 1937 to April 1940.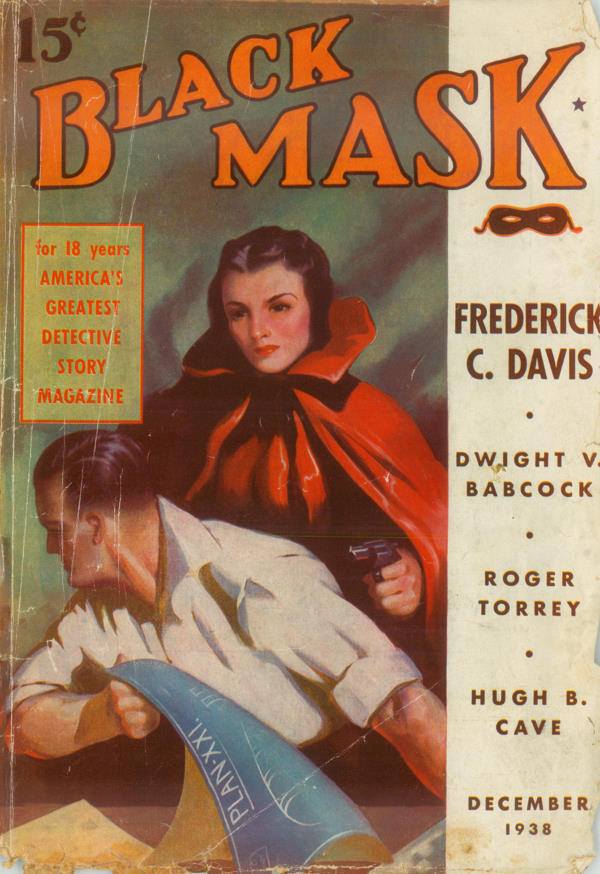 The magazine is slimmer than the earlier 1930s issue we saw, which was 128 pages. This issue has 112 pages excluding the covers but including 8 pages of ads. The fiction content is just over 100 pages.
The subheading is now "for 18 years AMERICA'S GREATEST DETECTIVE STORY MAGAZINE", harking back to past glory. Generally a bad sign.
The price is 15 cents, which makes it a little more competitive in the market. Was it enough? Let's see.
The Art
The cover by James Lunnon illustrates Smoke in your eyes by Hugh B. Cave. All interior illustrations are still by Arthur Rodman Bowker. Their style remains mostly unchanged, but they look a bit darker to me. I'm hesitant to say they reflect the changed tone of the magazine because I'm not sure that all issues were like that.
The Authors
Shaw regulars Dwight V. Babcock and Roger Torrey are present. Fred C. Davis, also present, is probably unique in having sold stories to Florence Osborne and George Sutton, none to Cody and Shaw, and then again to Ellsworth. He would also sell stories to the next two editors. He may be the only author to be with Black Mask from beginning to end.
Donald Wandrei is new to the magazine in Ellsworth's reign. Hugh B. Cave had sold one story to Shaw, but most of his work in Black Mask was printed by Ellsworth, including two stories in this issue, one under the Allen Beck pseudonym.
The Stories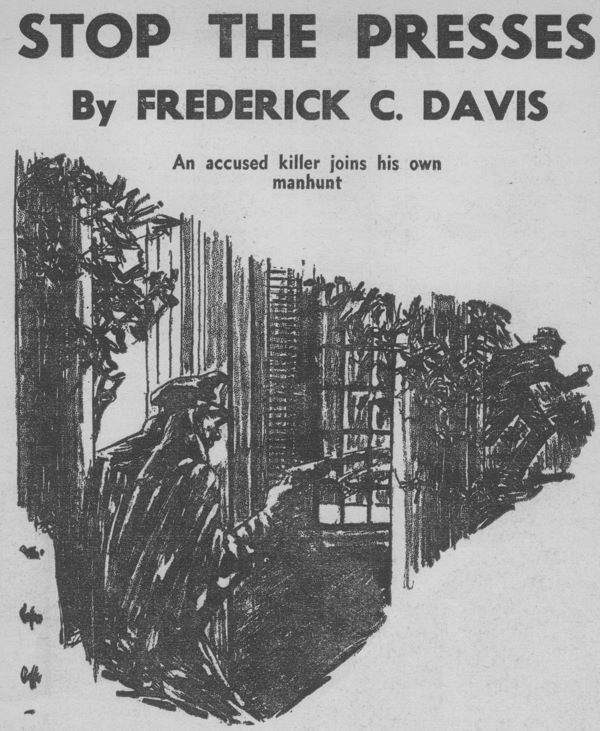 Stop the Presses by Fred Davis is the opening story. It begins with a cop shooting a man who's leaving a house with a dead body in it. The corpse was the man's wife; they used to quarrel regularly and were overheard by the neighbors. The husband happened to be in the wrong spot at the wrong time. Fred Davis rapidly builds up suspense around the manhunt for the husband and how he's going to prove his innocence.
This is one that wouldn't have got past Shaw. The bad guy isn't who you think it is. The detectives are wrong about everything and make no effort to look past the obvious explanation. The hunted man is innocent, not that the cops or the press care. The plot is lightweight and depends on a lot of luck. If you put it down in the middle it might not make much sense, but if you go with the flow it's a lot of fun.
Sounds like a movie, doesn't it. That's because it is. This story was made into Double Alibi (1940). IMDb gets the story name wrong.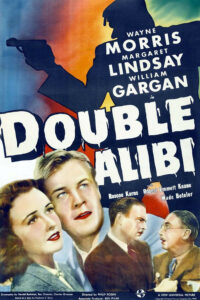 Long Live the Dead by Hugh B. Cave was reprinted twice. Once in the out of print collection of his Black Mask stories, Long Live the Dead. Again in The Black Lizard Big Book of Black Mask Stories, a doorstopper volume put together by Otto Penzler (currently available in e-book form at the ridiculously low price of 5 USD). Both highly recommended by me.
Cave riffs on Hammett's Nick and Nora Charles with his wisecracking detective duo of Angel (real name Angelina Copeland) and John Smith (real name Philip Edgerson) who run into a nest of spies. Angel is the lady on the cover of this issue. War-time stories were beginning to creep into the magazine; the Nazi regime had demonstrated to the world in Kristallnacht just what they were going to do with the "Jewish problem". Can read it once.
Next comes Come Clean by Donald Wandrei. Six pages of action, started by a race driver who's come back home after a tiring time on the track. All he wants to do is take a bath. That won't happen because the upstairs tenant is banging so hard on his floor that the plaster on his ceiling is falling down. Into his bath. The driver goes up to investigate and lands right in the middle of a criminal enterprise. Short and fun.
Dwight Babcock's Careless Killer features his series character, Beeker, a featureless P.I. who's taking a abalone fishing vacation on the coast. Or trying to, when he runs into a dead body. This story might have passed with Shaw. Or it might not, the plot is a little confusing and the dead man is a sexual predator. Can skip with no regrets.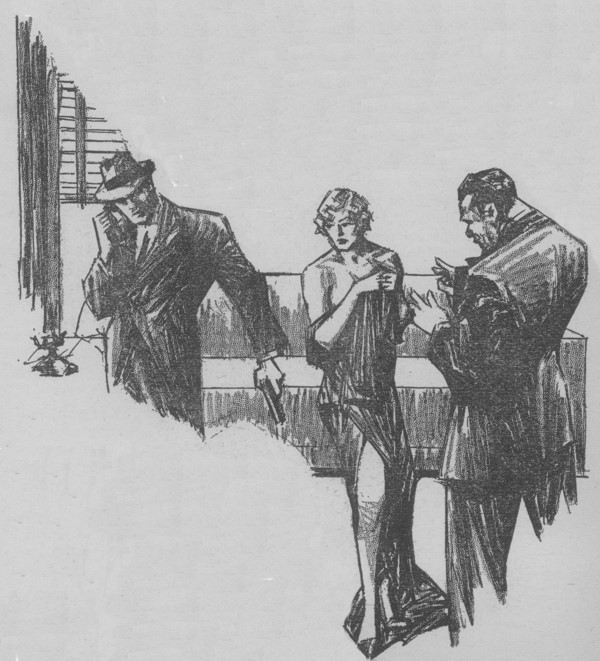 Roger Torrey's Concealed Weapon is better. A man comes into the offices of detective Pete McCarthy and his partner Marge Chalmers and falls down, nearly dead from stab wounds. He has five hundred dollars on him and a few names and addresses taken from a card file. McCarthy takes the five hundred dollars and tries to find out what led to this; he dislikes his clients being killed. Hardboiled and violent, probably the one story Shaw would have taken without reservations. Good.
Long Live The Dead by Allen Beck aka Hugh B. Cave stars a man whose purpose in life was destroyed with the paralysis of his hands in an accidental explosion. He retreats into isolation and depression, wanting nothing but to die alone, unremembered and unrecognized. The outside intrudes, in the form of his girlfriend who visits him, and not one but two insane criminals threatening to smash what remains of his world. The climax is somewhat weak; the rest of the story is good and grim.
The Report Card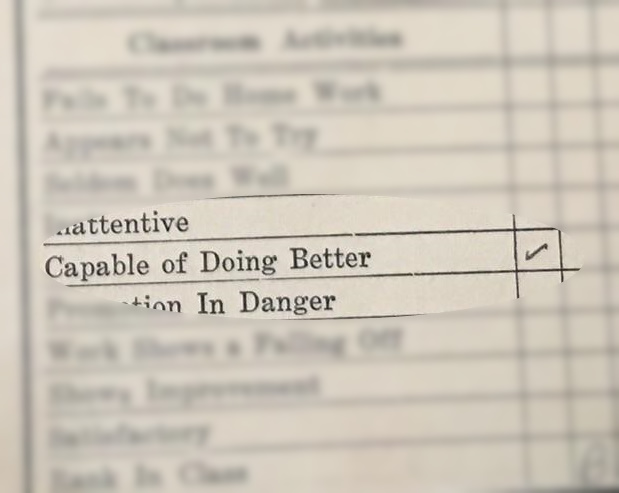 The fiction contents are a good mix of hardboiled, noirish and even slightly humorous stories from good writers. No real problems there. The illustrations are well done, the overall presentation is good.
Circulation still wouldn't grow. The competition was murderous. Dime Detective (DD), Detective Fiction Weekly (DFW) and Detective Story Magazine (DSM) offered similar contents. Black Mask authors like Erle Stanley Gardner, Cornell Woolrich, Raymond Chandler, Roger Torrey, H. H. Stinson, Hugh B. Cave, Carroll John Daly, Fred C. Davis and Steve Fisher appeared in all three magazines. In addition, each of these titles had their own stables of exclusive authors.
DFW offered 112 pages; DD and DSM 128. All were priced at ten cents an issue. More pages than Black Mask, only cheaper. Only dedicated readers would buy Black Mask; there weren't enough of them, average sales in 1939 were around 45,000 an issue.
Why did Black Mask keep the price at fifteen cents when they knew competition was a nickel cheaper? We can guess. The table of contents for the December 1938 issue gives the address of Pro-Distributors Publishing Co. as 2242 Grove St., Chicago. The editorial offices are at 515 Madison Ave., New York City, shared with Field & Stream and Ranch Romances.
The 2242 Grove St. address in Chicago is the address of Cuneo Press, which specialized in magazine production. It printed Time, Life, Cosmopolitan and Harper's Bazaar among others. Conclusion: Warner Publications was using Cuneo Press to print Black Mask.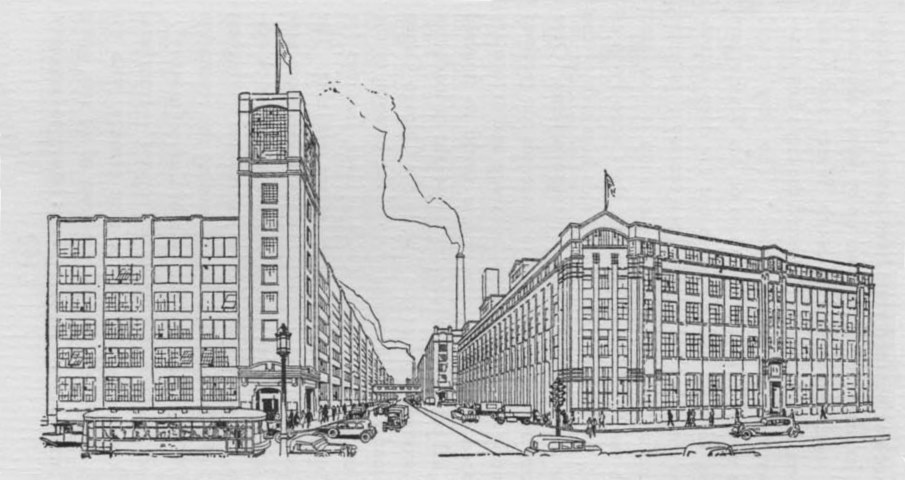 The Frank A. Munsey Company and Street & Smith, the publishers of Black Mask's main competition, had their own printing presses. Popular Publications used Cuneo Press too, but their contract was much bigger. Could they get printing done cheaper? Probably, considering how many other magazines they were each producing. Warner was only publishing two pulp titles: Ranch Romances and Black Mask, it had no economies of scale. Ranch Romances was selling nearly 75,000 copies an issue. It could survive without support.
Black Mask needed a big backer if it was to survive.
Next week: Relief arrives