This is not the Popular Publications pulp you might be familiar with. It's an earlier magazine published by Two Books Magazines. Two Books Magazines was a publishing venture of Roy S. de Horn, former editor at Doubleday. Along with New Detective Magazine, Two Books also put out New Western and Big-Book Western. If those names sound familiar, it's because these titles were later sold to Popular Publications, who continued them.
The editor is Roy S. de Horn himself, and he asks for "Detective, murder-mystery novels, master criminal opposed to likable hero. Some girl interest" in the Sep 1939 issue of Author and Journalist, a writers' trade magazine. For this, he offered ¾ cent a word, above the ½ cent offered by the bottom of the market and just below the 1 cent a word and up offered by Popular's Dime Detective and Munsey's Detective Fiction Weekly. Would this formula be successful? Find out in this review of the May 1935 issue of New Detective.
There are only four stories in the issue. The smallest story is 23 pages long; the longest 34; they are supplemented by 13 pages of ads. All are by moderately productive pulpsters: Anatole Feldman, Margie Harris, Weed Dickinson and the pair of Otis Adelbert Kline and E. Hoffman Price. All four stories are listed on the cover, which depicts a scene from 20-Story Death by Anthony Field aka Anatole Feldman.
20-Story Death by Anatole Feldman (whose story, Rough on Rats, I reviewed earlier) seems to be the first entry in the Steve Oakes (The Angel) series he created for this magazine. Steve is the son and brother of policemen; in this entry, his father is dead, considered a suicide. Steve and his brother, always at loggerheads, both want to find out what really happened. The story's emotional charge comes from this personal connection of the detective to his problem; but the plot has loose ends (Why did Nancy Muir burgle the safe?) and while there's plenty of action, it never really grabbed my interest.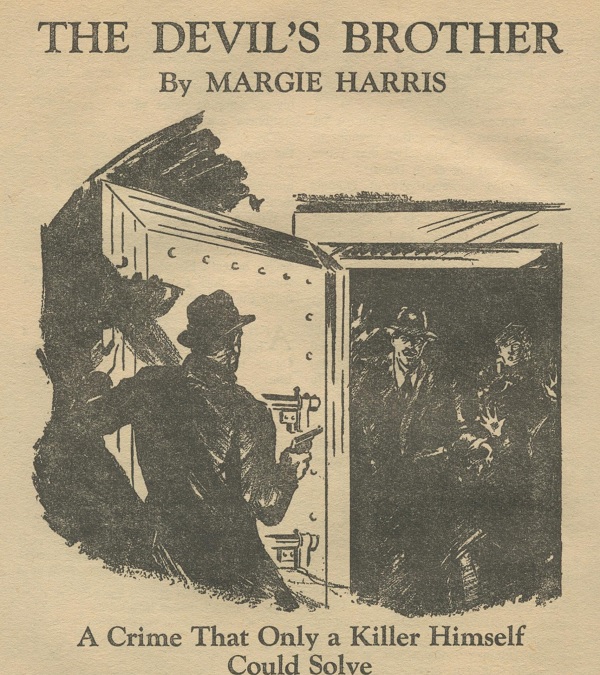 But then we have Margie Harris' The Devil's Brother. Nominally a detective story, this is a chunk of dynamite from the gangster pulps with a villainess who can eat lead and throw punches with the best of the hard-boiled heroes. Mike Hammer would think twice or thrice about batting her around.
The story is built around a McGuffin invention – a way to transmit power wirelessly – something that would break the power of the trusts. Such a desirable invention attracts the usual undesirable elements who want it for their own purposes and to enrich their own purses. Gid Wyant, our hero, is a private eye who's been hired to find the missing invention and its inventor. Wyant, a graduate of the Race Williams detective school, believes the right way to investigate anything is to put his head down and charge at the slightest clue. With that level of intelligence, he gets locked in a safe with three hours of air left to breathe. It gets better from there, but just how you'll have to find out by reading the story. The ending is worthy of Mickey Spillane.
Dead Man Overboard by Weed Dickinson is mildly interesting for the first three-four pages and then I rapidly lost interest. Burt Calhoun of the Calhoun International Detective Agency is spending his vacation yachting solo when he tries to rescue a drowning man, only to find him already dead. Dragged into the case against his will he finds plenty of red herrings but fails to spot the real stinking fish who was obvious to me fairly early.
The Murder Room by Otis Adelbert Kline and E. Hoffman Price is non-stop action with an interesting hero. Byrd Wright is our hero, nicknamed "The Ferret" for his speed and tenacity in uncovering the truth. Of course, this being pulp, the villain uses the most preposterous methods of committing crime. Such as setting up a machine gun in a boardroom table and then gunning the board members down. And the police are so dumb they only suspect one of the two directors who didn't attend the meeting. Byrd tries to make everyone around him underestimate him by acting dumb and docile. It works, some of the time, with some of the people. Can read it once.
There you have it. One good story in four. Would I buy that issue? Maybe, since I'm a Margie Harris fan. But I'd think twice about buying another one.